Nov 2017 House Price Watch
Nationally house prices are up on average 0.2% in the past month and up 3.4% on average in the past year.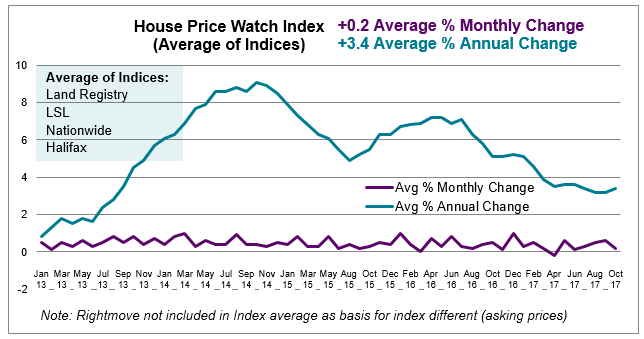 Nationally house prices are up but overall activity continues to slow
Most of the major house prices report a rise in house price growth over the past month. Land Registry (0.4%), Halifax (0.3%), Nationwide (0.2%) and Rightmove (1.1%) say monthly house prices are rising.  LSL (-0.1%) say monthly house prices are falling.  Land Registry and LSL refers to September house price data.  Nationwide, Halifax, and Rightmove refer to October house price data.
Across the major indices, house prices are up on average 0.2% in the past month and up 3.4% on average in the past year (Rightmove is excluded from the average).  House prices have slowed over the course of 2017 but have stabilised in recent months.
Home sales and mortgage approvals down
UK home sales fell in September – down 1.8% between August and September 2017.  Transactions are 4.6% higher than September 2017. It is worth bearing in mind, however, that home sales from September 2016 may have been affected by a slowdown following a period of uncertainty after the result of the EU referendum.  (HMRC seasonally adjusted figures).
Mortgage approvals for house purchases, which are a leading indicator of completed house sales, were also down in September.
Shortage of homes available for sale sustaining house prices
October 2017 RICS UK Residential Market Survey shows a drop in new buyer enquiries and a drop in agreed sales.  New sales instructions also dropped.  The stock of homes available for sale on estate agents' books has risen slightly from record low seen in June earlier this year.  Still the supply of homes available for sale is tight and keeping upward pressure on house prices.
Confidence in house prices has fallen to its lowest level since December 2012 according to the Halifax Market Confidence Tracker.  The biggest barriers to buying a house are the ability to raise a deposit (61%) and job security (42%).  An increase in the Base Rate was the main barrier for 15% of people and a third (36%) of existing mortgage holders indicated rising interest rates would affect their ability to meet their repayments.
Market commentary:
Nationwide:  "The proportion of borrowers directly impacted by a rate rise will be smaller than in the past, in part because the vast majority of new mortgages in recent years were extended on fixed interest rates. The share of outstanding mortgages on variable rates has fallen to a record low of 40% down from a peak of 70% in 2001."
Halifax:  "The fact that the supply of new homes and existing properties available for sale remains low, combined with historically low mortgage rates and a high employment rate, continues to support house prices and is likely to do so over the coming months.  We do not anticipate the Base Rate rise will be a barrier to buying a house."
Rightmove:  "While affordability is stretched, it is still countered by the motivation to own a home rather than rent, or the need for extra space to house a growing family.  With buyers' average wage rises often falling behind retail price inflation, and with a rise in interest rates being more heavily trailed by the Bank of England, sellers in these most popular sectors should still be wary of over-pricing. Buyers will be looking for the best buy on the market in their desired area either in terms of price or quality of finish."
RICS: "The October 2017 RICS UK Residential Market Survey shows both demand and sales continuing to soften at the national level, with most regions displaying a flat to negative trend in the latest results. Meanwhile, forward looking indicators are suggesting momentum is likely to remain subdued, at least in the near term."
Regional Summary: House prices rising fastest in North West and slowest in London
In the past month, house prices are up in all regions except London where house price have continued to fall (-0.2%).
London is also experiencing the slowest annual house price growth of any region (2.5%) well below the UK average.
The North West (7.3%), the South West (6.6%) and the East Midlands (6.4%) top the table for annual house price growth.
To see how we calculate our House Price Watch click here and to see previous reports click here
Sign up to our

FREE

weekly newsletter

for the latest news, advice and exclusive money saving offers
Let us help you…