Nov 2016 House Price Watch
Nov 2016 House Price Watch indicates house prices are up on average 0.5% in the past month and up on average 5.1% in the past year
Market slowdown still evident but buyer interest returning – key constraint is homes available for sale
House prices are up on average 0.5% in the past month, while the rate of annual house price growth has fallen steadily since May (on average from 7.2% to 5.1% in October).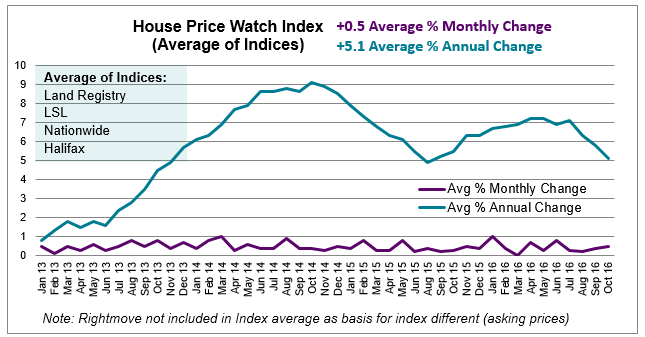 The major House Price Indices generally report house prices to be stable or up in the past month ranging from a low of 0.0% change in house prices from Nationwide to a high of 1.4% from Halifax (the average change across Land Registry, Nationwide, Halifax and LSL is 0.5%).  Rightmove, report an increase of 0.9% in asking prices in October.
UK home sales continue to fall — down 4.3% in September and 11.3% lower than the same month last year (HMRC seasonally adjusted figures). Transactions have been tracking below 2015 levels since the surge in sales in March (ahead of stamp duty changes on second homes).
However, mortgage approvals for house purchases, a leading indicator of completed house sales, increased 3% in September, the first rise in four months and a sign the market may be picking up. (Bank of England).  Mortgage rates are at record lows since the Bank of England cut the base rate to 0.25% in August.
Homebuyers return to the market but lack of property available for sale is an issue
In addition, house hunters are returning to the market. According to RICS, new buyer enquiries are up in October.  However, buyers may struggle to find properties as the number of new instructions and properties available for sale is down again this month.
With ongoing concern around the shortage of homes available for sale, there is keen interest among those in the housing industry in the Chancellor's upcoming Autumn statement and what measures he will put in place to increase housing supply and address affordability issues.
Regional Summary
London no longer tops the table for annual house price growth
Regionally, house prices are rising fastest in the East of England (up 12.1% on average in the past year) and slowest in the North East (up on average 1.5% in past year).  See the annual change, monthly change and average house price by region below:
Prefer pictures, see our Infographic
To see how we calculate our House Price Watch click here and to see previous reports click here
Share this page:
Sign up to our

FREE

weekly newsletter

for the latest news, advice and exclusive money saving offers
Let us help you…