Nov 2015 House Price Watch
This month's House Price Watch indicates house prices are up on average 0.3% in the past month and up 5.5% in the past year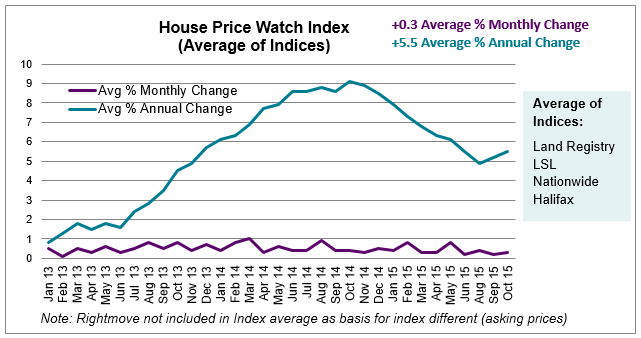 Rate of annual house price growth gaining pace
After an eight month slowdown, the pace of annual house price growth has risen for the past two months; up from 5.2% to 5.5% in the past month.
UK home sales increased by 0.8% between August and September to 106,030; a significant rise on the level of transactions last September — up 5.4% on the same period a year ago (HMRC data).  Alongside renewed market activity, RICS continues to report shortfalls in supply.  Rising house prices are expected to continue.
Shortage of homes an ongoing issue — competition for smaller properties is high
One of the factors potentially constraining the overall supply of homes for sale is that older homeowners lack suitable housing options to allow them to move.
Smaller properties are reported to be experiencing the most significant price increases as investors and first-time buyers compete for properties at this end of the market (Rightmove reports a 10% rise in this category in the past year). This is seen to be as a result of a shortage of properties coming to market with two bedrooms or fewer, combined with demand from both first-time buyers and buy to let investors (who recognise the huge rental demand for smaller properties).
In a recent statement by the Financial Policy Committee of the Bank of England, it flagged its on-going focus on the Buy to Let sector given its recent rapid growth, compared to the owner occupied sector.
Given the long term trend of rising house prices, interest rates are expected to begin to rise.  In response to this, fixed rate mortgages have become the most popular product type in recent years. The Council of Mortgage Lenders suggests almost 90% of new mortgages were on fixed rates over the past twelve months and, among first-time buyers 95% of new mortgages were on fixed rates.
London is a particular hot spot this month
This month's House Price Watch sees house prices up sharply in London (up 1.8%) and up almost 10% in the past year.
Prefer pictures, see our Infographic
To see how we calculate our House Price Watch click here and to see previous reports click here
Share this page:
Sign up to our

FREE

weekly newsletter

for the latest news, advice and exclusive money saving offers
Let us help you…