May 2017 House Price Watch
May 2017 House Price Watch indicates that house prices have fallen for the first time in years -- on average 0.2% in the past month and average annual house price growth slowed further to 3.5% ; the lowest average annual rate of house price growth since September 2013.
House prices fall 0.2% nationally and 1.5% in London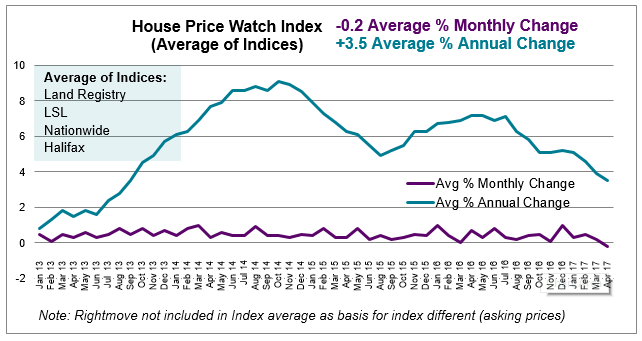 Most of the major indices report a decline in monthly house prices: -0.6% Land Registry (March data), -0.4% Nationwide (April data), -0.1% Halifax (April data).  LSL reports house prices to be up 0.5% (March data) and Rightmove report a rise of 1.1% in asking prices in April.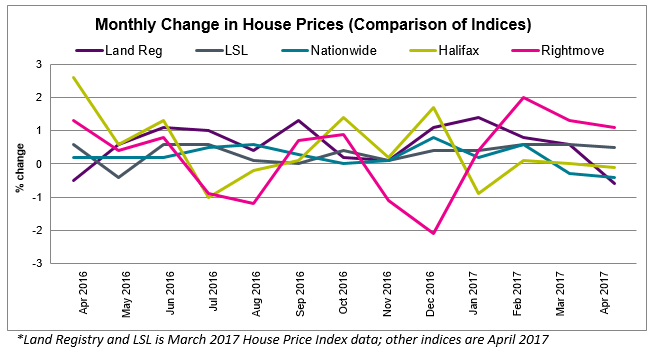 UK home sales decreased by 3.2% between March and April 2017; Transactions are up year on year but transactions in April 2016 were unusually low given the introduction of higher stamp duty rates on additional homes. (HMRC seasonally adjusted figures).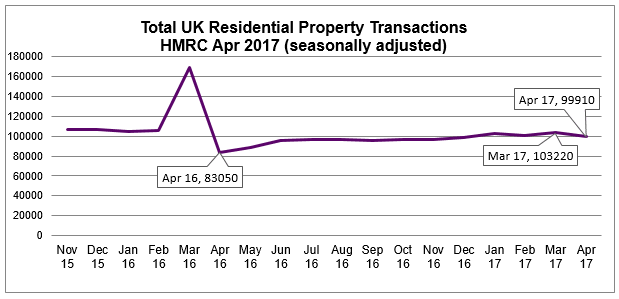 The April 2017 RICS UK Residential Market Survey results show sales declining slightly over the month. New buyer enquiries and new instructions from sellers weakened further.
Commentary:  Squeezed affordability and climate of uncertainty are likely contributing to slow-down
HOA: "House prices have fallen for the first time in years alongside slower market activity.  There appear to be two factors at play contributing to the slow-down:  continued uncertainty caused by Brexit and the snap general election, as well as, squeezed household budgets, as wage growth slows and inflation rises."
Nationwide:  "While monthly figures can be volatile, the recent softening in price growth may be a further indication that households are starting to react to the emerging squeeze on real incomes or to affordability pressures. The slowdown in house prices may be part of a broader trend. Retail sales growth has slowed markedly in recent months, from a 14-year high of 7.3% in October, to 3.7% in February and 1.7% in March."
RICS: "Comments of some respondents, suggest that the calling of an early election may have created an added layer of uncertainty in the market although less marked than in the past. In addition, feedback references the ramifications of stamp duty changes particularly at higher price points."
Halifax: "Demand appears to have been curbed due to deterioration in housing affordability caused by a sustained period of rapid house price growth during 2015-2016. Signs of a decline in the pace of job creation, and beginnings of a squeeze on households' finances as a result of increasing inflation, may also be constraining the demand for homes."
Regional Summary
House prices have fallen in most regions of the UK over the past month.  The biggest reductions are evident in London (monthly house prices dropped 1.5% and annual house price growth is 1.5%) and the North East (house prices dropped 1.3% in the past month and annual house price growth is 0.4%).
Prefer pictures, see our Infographic
To see how we calculate our House Price Watch click here and to see previous reports click here
Share this page:
Sign up to our

FREE

weekly newsletter

for the latest news, advice and exclusive money saving offers
Let us help you…