May 2015 House Price Watch
This month's House Price Watch indicates house prices are up on average 0.3% in the past month and up 6.3% in the past year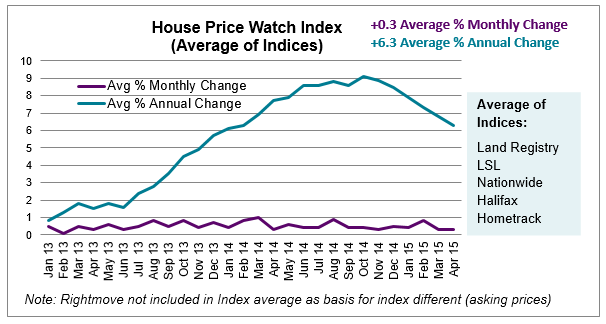 Sluggish start to 2015 but signs of modest pick-up in transactions and mortgage approvals
Completed home sales in March are up 12% on February and up 6% on March 2014, although combined sales for the first quarter of 2015 are tracking at just under 190,000 or 5% lower than the same period a year ago according to LSL forecasts using Land Registry data.
Mortgage approvals rose for the third consecutive month in February – representing a 2% increase over the previous three month period.  Although Nationwide indicate that the number of mortgage approvals is still well below the long run average and 20% below the levels recorded early in 2014.
The supply of homes for sale remains tight with new seller numbers down 4% so far in 2015 compared to 2014 according to Rightmove.
Uncertainty ahead of the general election may be weighing on activity
The sluggish start to the housing market has been somewhat of a surprise given that underlying market conditions remain strong: employment and wages are improving, mortgage rates and the outlook for interest rates remain low and buyer/ seller sentiment is at an all-time high according to Halifax's Confidence Tracker.  It is thought uncertainty around the outcome of the General Election may be a factor and it will be interesting to see how the market responds to the election outcome.
Our recent Homeowner Survey indicates that recent stamp duty reform is likely to make things easier for first-time buyers and those wanting to move up the housing ladder. This is supported by data from conveyancing provider, myhomemove: "Our data shows an increasing number of buyers are purchasing properties above £250,000 since the new Stamp Duty system was introduced. Under the old 'slab' system, the significant increase in Stamp Duty payable on properties above this amount acted as a barrier for buyers looking to move up the property ladder. The new system allows buyers to own properties that would have previously been unobtainable due to the substantial cost of Stamp Duty before the changes came into force." 
According to our 2015 Homeowner Survey, whichever party is in Government, people want to see housing policies which help to address the shortage of homes crisis without encroaching on protected Green Belt Land.
Regional Summary:
Most regions experienced a dip in average house price in March
Prefer pictures, see our Infographic
To see how we calculate our House Price Watch click here and to see previous reports click here
Let us help you…
Sign up to our

FREE

weekly newsletter

for the latest news, advice and exclusive money saving offers