May 2014 House Price Watch Report
This month's House Price Watch indicates house prices are up on average 0.3% in the past month and up on average 7.7% in the past year

Pace of house price growth slows over past month
Reports suggest the number of housing transactions in March is up only slightly (1.5%) on February possibly a result of a shortage in properties available for sale (particularly in the South) – RICS reported that the average levels of stock are at their lowest point for the last 14 years.
The longer term trend of rising house prices looks set to continue as demand for housing is still running at a higher rate than supply (Demand grew by 3.3% this past month with supply up by 1.9% according to Hometrack).
The imbalance between supply and demand is reported to be more prevalent in southern regions.  "The additional fresh choice for buyers has been much more pronounced in the north with five out of six regions recording a supply boost of 18% or more.  This has helped to cool price rises… in the northern regions."
The Mortgage Market Review measures which place a greater emphasis on affordability are not expected to have an impact on the housing market in the short-term as low mortgage rates and rising consumer confidence are expected to keep demand up.  Nationwide: "Earnings growth is beginning to pick up with wage increases finally outpacing the rise in cost of living in February".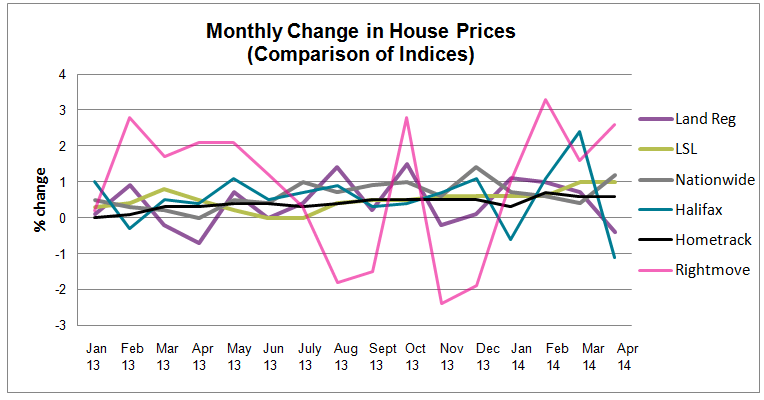 Regional Summary – House prices are up in all Southern Regions
In the past month, house prices are up in the South and East, West Midlands and the North East. Prices are down in Wales, East Midlands, North West and Yorkshire & Humber.
The region with the most significant annual price increase is London up 12.4%.  There may, however, be emerging signs of price resistance in the London market.  According to Hometrack data, much of the house price growth is coming from lower value London markets that offer relative value for money.  The time on market in London is up from 2.7 to 3.4 weeks over the last month and the proportion of markets registering price gains is starting to soften.
Prefer pictures, see our Infographic
Let us help you…
Sign up to our

FREE

weekly newsletter

for the latest news, advice and exclusive money saving offers