Mar 2017 House Price Watch
March 2017 House Price Watch indicates house prices are up on average 0.5% in the past month while average annual house price growth slowed to 4.6% in the past year; the lowest rate of average annual growth since October 2013
 Lowest rate of annual house price growth in over three years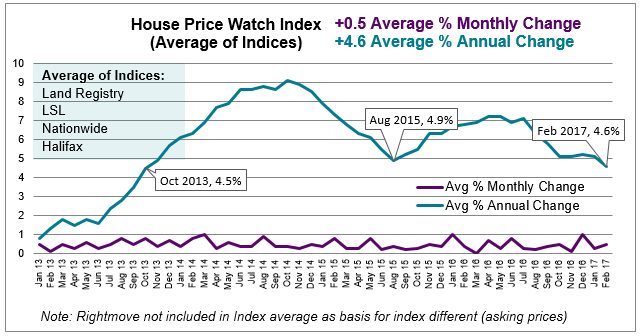 Most of the major House Price Indices report house prices to be up in the past month: 0.1% Halifax, 0.6% Nationwide, 0.6% LSL, 0.8% Land Registry.  Rightmove, report a rise of 2.0% in asking prices in February.  Land Registry data refers to January.  All other indices are reporting February figures.
UK home sales decreased by 0.7% between January 2017 and February 2017; 1.9% lower compared with the same month last year.  (HMRC seasonally adjusted figures).
However mortgage approvals for house purchases, a leading indicator of completed house sales, increased to their highest level since February last year.  Approvals are up 2.4% between December 2016 and January 2017 from 68,266 to 69,928 (Bank of England).
RICS residential market survey indicates new buyer enquiries are steady. New sales instructions are down in February leaving the stock of homes available for sale near record-lows.
Slowing annual house price growth expected to continue
Commentary:
HOA: "House price growth may be slower than this time last year, but values are being held up by the low number of properties for sale. Increases in house prices continue to outstrip wage growth, and rising inflation will affect affordability for many buyers over the coming months."
Halifax:  "Annual rate of house price growth has nearly halved over the past 11 months.  House price growth in excess of pay rises has made it increasingly difficult for many to purchase a home.  This together with signs of reduced momentum in the jobs market and squeezed consumer spending power is expected to curb house price growth during 2017."
Nationwide: "The outlook is uncertain, but we expect the UK economy to slow through 2017 as heightened uncertainty weighs on business investment and hiring.  Consumer spending, a key engine of growth in recent quarters, is also likely to be impacted by rising inflation in the months ahead as a result of the weaker pound."
Rightmove: "While the prices of goods in shops are rising at a faster rate, the pace of price rises in property coming to the market is slowing. Perhaps we're approaching the territory where many buyers are unable or unwilling to pay what sellers are asking given the negative combination of rises in the cost of living, tighter lending criteria and a dose of Brexit uncertainty."
Regional Summary
Regionally, house prices are up in the past month (January data) in London, South East and East of England and West Midlands.  House prices are down in the East Midlands, the North of England and Wales.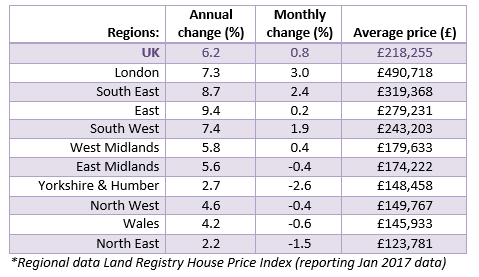 Prefer pictures, see our Infographic
To see how we calculate our House Price Watch click here and to see previous reports click here
Share this page:
Sign up to our

FREE

weekly newsletter

for the latest news, advice and exclusive money saving offers
Let us help you…