June 2016 House Price Watch
June 2016 House Price Watch indicates house prices are up on average 0.6% in the past month and up on average 7.8% in the past year

Despite drop in house sales, tight supply keeps prices rising

All of the major indices report house prices to be up over the past month.  House prices are up on average 0.6% in the past month and up on average 7.8% over the past year.
However, UK home sales dropped sharply — by 45.2% between March 2016 and April 2016 and are 14.5% lower compared with the same month last year (HMRC seasonally adjusted figures).
The large increase in transactions for March 2016 followed by the substantial reduction in April is likely to be associated with the introduction of the higher stamp duty rates on additional properties in April 2016. The total for March and April 2016 is still substantially higher than the corresponding period last year (237,980 transactions vs 189,490).  Looking forward, fewer transactions are expected in the months ahead to offset the early surge in the year.
RICS Residential market survey for May reports that one third (32%) of property professionals are experiencing a drop in buyer demand compared with April – demand is seen to be falling faster than any point since the 2008 recession.
Housing supply remains low resulting in upward pressure on house prices.  New instructions by home sellers are reported to have fallen in March and April and, with rapid sales activity in March, the stock of properties available for sale has been depleted.
Regional Summary
Land Registry April data indicates house prices are up in most regions.  However, house prices are down in the South West, Wales and the North East of England.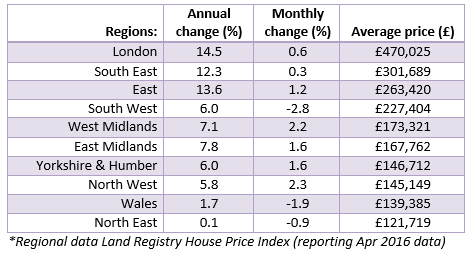 Prefer pictures, see our Infographic
To see how we calculate our House Price Watch click here and to see previous reports click here
Share this page:
Sign up to our

FREE

weekly newsletter

for the latest news, advice and exclusive money saving offers
Let us help you…