July 2017 House Price Watch
July 2017 House Price Watch indicates that house prices are up on average 0.1% in the past month and up 3.6% in the past year.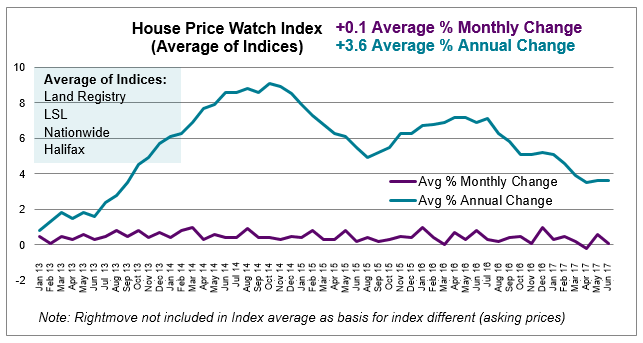 Slowdown still evident with transactions falling and modest house price growth
There are conflicting reports from the major house price indices with some recording a rise in house prices and others recording a fall in house prices over the past month.  Those with a decline in house prices include Halifax (-1.0%), Rightmove (-0.4%) and LSL (-0.2%).  Those with a rise in house prices include Nationwide (1.0%) and Land Registry (0.5%).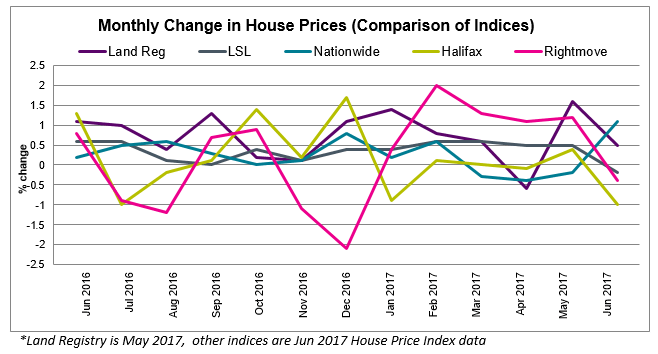 Property transactions fell in May to 100,170.  Home sales decreased 3.3% between April and May and were down 3.2% between March and April.  Home sales are higher than a year ago but April and May 2016 were unusually low given the introduction of higher stamp duty rates on additional homes which came into effect in April 2016.  (HMRC seasonally adjusted figures).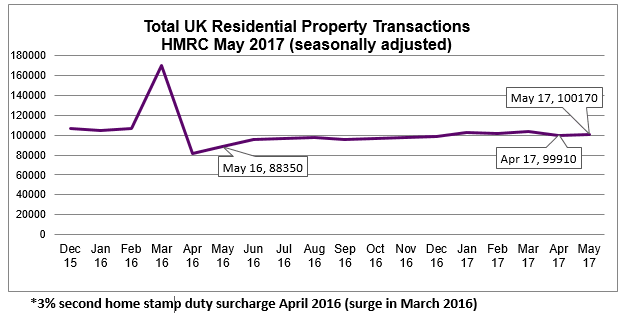 The volume of mortgage approvals for house purchases – a leading indicator of completed house sales has been in the range of 65,200 and 68,600 per month for the last eight months indicating that home sales are likely to remain steady over the coming months.  Mortgage approvals for house purchases were up 0.2% between April and May (65,200).  (Source: Bank of England, seasonally-adjusted figures).
There are signs of stronger first-time buyer activity in 2017.  According to the Halifax First Time Buyer Review, first-time buyer numbers are up 5.5%.  In the first 6 months of 2017, there were 162,704 first time buyers compared to 154,200 in the same period in 2016.  Rightmove report that the first-time buyer sector is seeing newly-listed prices surge 3.5% month-on-month and 5.5% year on year (this is for properties with two bedrooms or fewer).
The June RICS UK Residential Market Survey reports that agreed sales have declined alongside new buyer enquiries and new instructions.  Average stock levels on estate agent's books remain very low.
Commentary:  uncertainty continues to weigh on overall market activity but first-time buyer sector undeterred
HOA: "As anticipated the ongoing climate of political and economic uncertainty is causing an overall slowdown in the housing market. However, there are signs that the balance is shifting towards a buyer's market and first-time buyers, not worried about selling their own property, seem to be forging ahead while mortgage rates remain attractive and their bargaining power is better than it has been in recent years."
Nationwide:  "The emerging squeeze on household incomes appears to be exerting a drag on housing market activity in recent months.  The number of mortgages approved for house purchase has slowed a little in recent months and surveyors report that new buyer enquiries have softened."
RICS: "Perhaps not surprisingly in the current environment, the term 'uncertainty' is featuring more heavily in feedback we are receiving from professionals working in the sector. This seems to be exerting itself on transaction levels which are flatlining and may continue to do so for a while particularly given the ongoing challenge presented by the low level of stock on the market."
Rightmove: "It now seems certain that we will have continuing political uncertainty which the housing market traditionally dislikes and with the first fall in June prices for 8 years there is no doubt the lack of stability is a factor. Those at the traditional starter level are brushing aside uncertainty with demand being fueled by the ongoing desire for homeownership, government assistance and mortgage repayments often cheaper than rent for a similar property."
Regional Summary
The East of England (7.5%) and the East Midlands (7.2%) have the highest rates of annual house price growth, while the slowest rates of annual house price growth are evident in the North East (1.6%) and London (3.0%).
Other regions are experiencing annual house price growth in the range of 3.5% – 5.5% with less disparity in rates of regional house price growth than we have seen in recent years.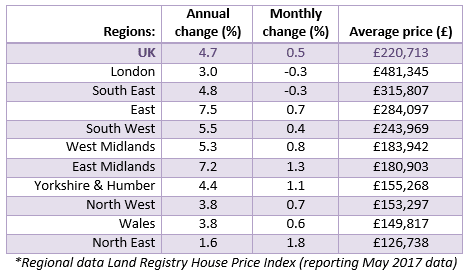 To see how we calculate our House Price Watch click here and to see previous reports click here
Share this page:
Sign up to our

FREE

weekly newsletter

for the latest news, advice and exclusive money saving offers
Let us help you…