July 2014 House Price Watch Report
This month's House Price Watch indicates house prices are up on average 0.4% in the past month and up on average 8.6% in the past year
House prices are up but the market is cooling
The number of housing transactions is down. Up until May of this year, monthly transactions were up an average of 34% above the level recorded in the same month last year. Transactions dropped off in June. By comparison, they are estimated to be up 10% year on year and down 6% from May (according to LSL data).
Reports show buyer demand is also beginning to tail off. Hometrack's monthly survey of estate agents and surveyors indicates there was no growth in new buyers registering with agents in June; a major change from the trend over the past 18 months.
Buyer confidence may be waning with talk of housing bubbles, potential interest rate rises and more stringent mortgage affordability checks. "Over the past year and a half, pent-up demand has fed back into the market after several years of low activity. The proportion of households willing to enter the market appears to have plateaued for now until the outlook becomes clearer."  Hometrack
Seller numbers have risen over the past month and Rightmove notes a rush of new sellers in London (up 23% in the past month) "We've reached a point where the gap between London and the rest of the country is becoming irresistible to London home owners who have for several years put off moving out." Savills
Mortgage Market Review measures, with greater emphasis on affordability alongside additional guidance on stress tests, may also be contributing to a slow down.
Nationwide reports mortgage approvals in June are 19% below January's peak. "The slowdown may partly be the result of the introduction of MMR measures which may take a few months to bed down." Nationwide
"The new mortgage rules which involve greater scrutiny of income and expenditure along with more detailed advice have meant that there has been in some cases a longer lag before loan approval. Along with bedding-in new systems, these factors might have contributed to a slow down." LSL Property Services
"The Bank of England has reported three consecutive months of falling mortgage approvals and a major factor in this is the clumsy and apparent over-zealous implementation of MMR. It is causing a major headache for some estate agents with U-turns by lenders meaning sales falling through and heartache for buyers and sellers who thought they had a deal agreed." Rightmove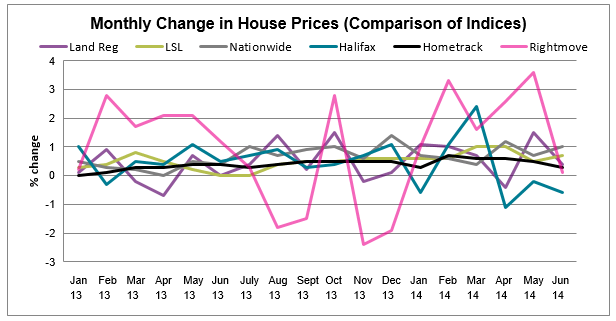 Regional Summary – House prices up in all regions in the past year.  London leads house price growth – up 18.5% in past year
In the past month, house prices are down slightly in the Northern regions and have continued to edge upwards in the South, East and Midlands.
Prefer pictures, see our Infographic
Let us help you…
Sign up to our

FREE

weekly newsletter

for the latest news, advice and exclusive money saving offers