January 2015 House Price Watch
This month's House Price Watch indicates house prices are up on average 0.5% in the past month and up 8.5% in the past year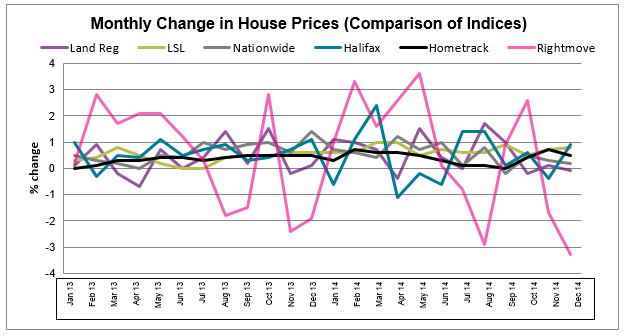 More modest house price growth expected in 2015
While house prices continue to rise, the rate of growth in house prices has slowed for the past four months.
Home sales decreased by 2% in the past month and dipped below 100,000 in November for the first time since November 2013; 0.8% lower than a year ago (Source: HMRC seasonally adjusted figures).
Mortgage approvals are down to their lowest level in 16 months according to Nationwide and 23% below their peak in January 2014 according to Halifax.
The trend of slowing house price growth is expected to continue into 2015
The major indices predict annual house price rises for 2015 in the range of 2% – 5% (compared to 8.5% in 2014).
The slowdown in recent months coincided with the introduction of tougher lending criteria and speculation of an interest rate rise.  There remains some uncertainty as to the longer term impact of the new mortgage lending rules, particularly on second-steppers and in high priced markets like London. Hometrack observes "Much of the growth in housing demand in the last 2 years has come from first time buyers, investors and cash buyers. Demand from existing mortgaged homeowners has remained subdued.  The impacts of greater mortgage regulation are yet to fully play out.  London's strong recovery was ahead of greater mortgage regulation."
Looking ahead, housing demand is expected to be supported by steady gains in employment and wage growth and continued low mortgage rates. Reports indicate consumer confidence remains optimistic and retail spending in November was its highest in a decade.
Stamp Duty changes are also expected to give a boost to demand in some areas
According to an analysis conducted by Nationwide of the abolishment of the Stamp Duty slab structure, 98% of buyers will pay the same or less tax.  Only those purchasing homes of more than £937,500 are set to pay more stamp duty.  The greatest impact is likely to be for those buying just above £250,000 who could save £5,000 in tax (or 2% of the purchase price). (Chart source: Nationwide analysis of Land Registry data 2013/2014).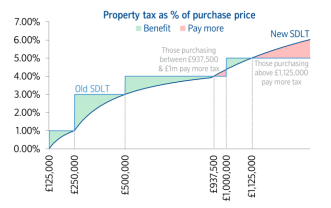 According to a regional analysis conducted by Nationwide, those in the South of England where average house prices are higher will benefit the most from Stamp Duty changes.  Estimates suggest 85% of transactions in London, the South West and South East will benefit from the changes compared with approximately 50% in the North, North West and Yorkshire and Humberside.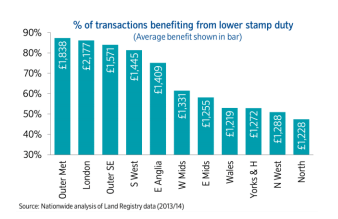 Of the transactions resulting in more stamp duty to be paid, two thirds are in London (where there are more high value transactions than in other regions).  Rightmove notes that there are winners and losers with the Stamp Duty changes in London and that the additional threat of mansion tax on properties over £2 million will remain a deterrent until at least May's election.
The Stamp Duty reform is welcomed in general and is expected to alleviate distortions in property prices. "Breaking up the outdated slab system of Stamp Duty should allow activity to build further at the bottom rungs of the ladder.  It should help erode up-front barriers of purchasing a home for the significant majority of buyers and sellers may feel the benefit of weightier demand, as well as being able to price their homes more realistically, without having to tactically negotiate threshold barriers." LSL Property Services
Regional Summary – All regions experienced house price growth in 2014
London and the South of England experienced higher rates of house price growth than Northern regions and Wales.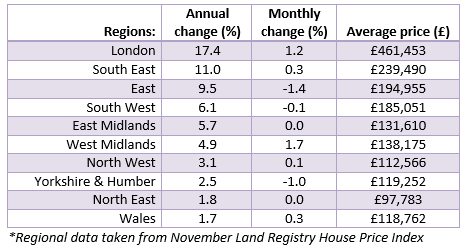 Prefer pictures, see our Infographic
To see how we calculate our House Price Watch click here and to see previous reports click here
Let us help you…
Sign up to our

FREE

weekly newsletter

for the latest news, advice and exclusive money saving offers