Jan 2017 House Price Watch
Jan 2017 House Price Watch indicates house prices are up on average 1.0% in the past month and up on average 5.2% in the past year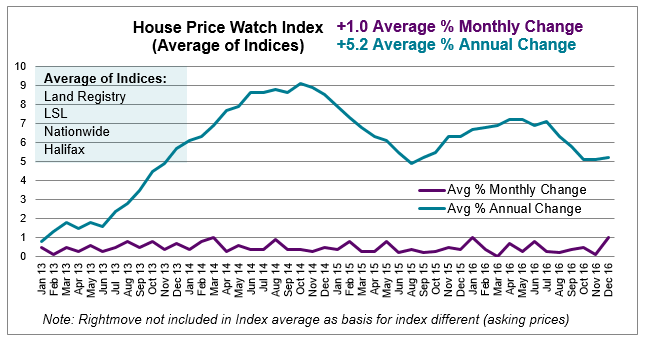 Strong finish to 2016 with house prices up significantly
The major House Price Indices generally report house prices to be up in the past month: +0.4% LSL, +0.8% Nationwide, +1.1% Land Registry, +1.7% Halifax (the average monthly change across Land Registry, Nationwide, Halifax and LSL is 1.0%).  Rightmove, report a fall of -2.1% in asking prices in December.  Land Registry data refers to November.  All other indices are reporting December figures.
Buyer confidence returning
UK home sales continue to rise – up 1% in September and up 0.8% between October and November although still slower than the same time last year — 7% lower (HMRC seasonally adjusted figures). Transactions have been below 2015 levels since the surge in sales in March (ahead of stamp duty changes on second homes).
Mortgage approvals for house purchases, a leading indicator of completed house sales, increased for the third successive month, up 0.2% following 6% rise between September and October (Bank of England).
Economic uncertainty and tight supply key themes for 2017
Supply remains tight with Rightmove reporting new listing numbers in November up 2% and available stock for sale per agent down 5%.
Outlook for 2017:
HOA:  "Buyer confidence is returning to the housing market, underpinned by low borrowing costs. While the expected triggering of Article 50 puts a cloud of uncertainty over the market for 2017, people seem keen to crack on with their home-moving plans. A shortage of both sellers and new homes being built means our housing market will continue to be shaped by a lack of supply and we can expect ongoing upward pressure on prices."
Nationwide:  "We expect the UK economy to slow modestly next year, which is likely to result in less robust labour market conditions and modestly slower house price growth. But we continue to think a small gain +2% is more likely than a decline over 2017 as a whole, since low interest rates are expected to help underpin demand while a shortage of homes on the market will continue to provide support for house prices."
Halifax: "Slower economic growth, pressure on employment and a squeeze on spending power, together with affordability constraints, are expected to reduce housing demand during 2017. UK house prices should, however, continue to be supported by an ongoing shortage of property for sale, low levels of housebuilding, and exceptionally low interest rates. Overall, annual house price growth nationally is most likely expected to slow to 1-4% by the end of 2017. The relatively wide range for the forecast reflects the higher than normal degree of uncertainty regarding the prospects for the UK economy this year."
LSL: "It's been a strong finish to an uncertain year. Despite the doubts over Brexit, prices have continued to grow, powered by good-value commuter properties. Lower transaction figures since April show the market faces challenges ahead, but it enters 2017 stronger than many expected."
Rightmove: "There was a bout of jitters with the unexpected referendum result, albeit now seemingly short-lived, but more may arrive after Article 50 is invoked.  For the time being any nervousness is being over-ridden by high demand for the short supply of suitable homes for sale in lower and middle market in many parts of the country."
Regional Summary
Regionally, house prices up in most areas (November data).  Annual house price growth highest in East of England (+10.5%) and South East (+8.6%).
Prefer pictures, see our Infographic
To see how we calculate our House Price Watch click here and to see previous reports click here
Share this page:
Sign up to our

FREE

weekly newsletter

for the latest news, advice and exclusive money saving offers
Let us help you…
Sign up to our

FREE

weekly newsletter

for the latest news, advice and exclusive money saving offers