Jan 2016 House Price Watch
This month's House Price Watch indicates house prices are up on average 0.5% in the past month and up 6.3% in 2015.
2015 was a booming year for house prices and further growth is expected this year.
House price growth is expected to continue into 2016, varying between 3% and 6%, say experts.  Nationwide is predicting growth between 3% and 6% and RICS predicts a rise of 6%.
There were 101,960 home sales between October and November 2015 which is up 3% on the same period a year ago (seasonally adjusted HMRC).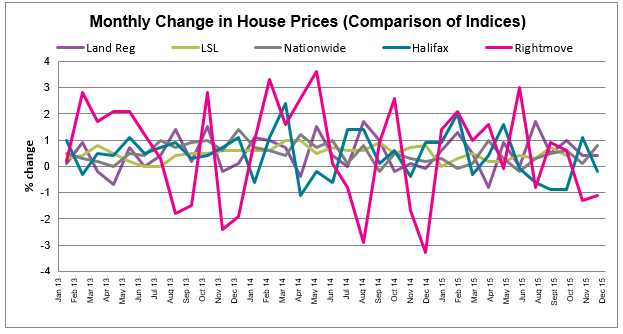 Despite the likelihood of an interest rate rise towards the middle of 2016, improved employment and wage levels are expected to boost buyer demand.  Alongside strong demand, supply pressures are expected to remain with the numbers of new homes being built lagging demand.
CML data from Q3 2015 indicates that overall lending increased 8.2% in 2015 year on year with loans to first time buyers up 5.7%, home movers up 5.1% and buy-to-let loans up 27.4%.
Buy-to-let concerns flagged by the Bank of England Financial Policy Committee has lead to stamp duty changes.  A further 3% stamp duty is being introduced by the Chancellor on 1st April and will likely dampen the sector.  Until then, expect a flurry of activity as landlords snap up homes before the new tax takes effect.
Regional Summary:
House prices in the South, particularly London, have risen faster than the rest of the UK.
Regions with higher rates of employment growth have seen stronger rates of house price appreciation.  Notably, the gain in employment in London is up 14% since the pre-crisis peak according to Nationwide data.
Looking ahead, above average price gains look less likely in London as the earnings to house price ratio becomes stretched.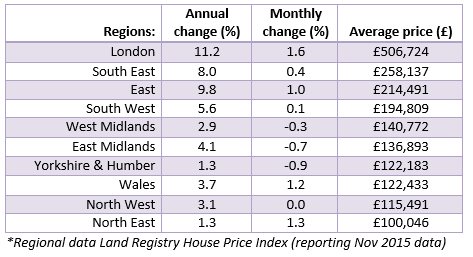 Prefer pictures, see our Infographic
To see how we calculate our House Price Watch click here and to see previous reports click here
Share this page:
Sign up to our

FREE

weekly newsletter

for the latest news, advice and exclusive money saving offers