Feb 2014 House Price Watch Report
This month's House Price Watch indicates house prices up on average 0.4% in the past month and up 6.2% this year (Issue 11 - February 2014)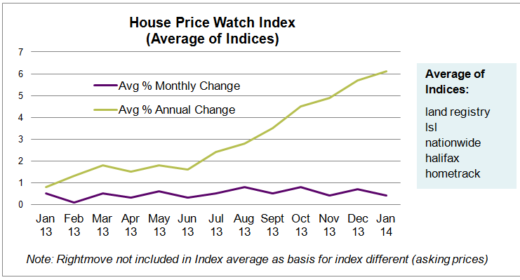 'New year, new home' a popular new year's resolution for 2014
Reports indicate property transactions are up significantly this year (up 30% compared to December last year according to HMRC).
A key reason for the rise in transactions is seen to be increased activity by first-time buyers (triggered by an easing of availability of higher loan to value mortgages). According to Oct 2013 CML data, the number of loans to first-time buyers are up 33% year on year.
First-time buyers are seen to help drive overall activity in the housing market: "One of the main reasons for the rise in transactions in 2013 is the increased activity by first-time buyers….The freeing-up of housing chains, alongside mortgage rates at record lows, has seen an increase in activity by home movers." LSL Property Services
Buyer numbers are expected to grow in the first quarter of 2014 with continued news of improving market conditions and low mortgage rates expected to hold in the near term.
The supply of homes has contracted over the last five consecutive months according to Hometrack but early signs in the new year point to growing seller sentiment:

Halifax Housing Market Confidence Tracker: 51% feel it is a good time to sell.
HomeOwners Alliance 'step-by-step guide to selling' page views doubled in January compared to previous peak levels indicating an interest in selling.
Rightmove report in the first two weeks of 2014 the number of pages of property viewed on their site rose by nearly 20% compared to a year ago, home-mover enquiries are at record levels (1.75 million) and there are early signs of an increase in property coming on the market (up 6% year on year).

Regional Summary – London highest monthly and annual rise in house prices; East Anglia greatest annual rise in transactions
London's house prices up 1.6% on average in the past month and 11.2% this year – the average house price exceeds £475,000. Most areas had a rise in property prices in the past month with the exception of the West Midlands and Yorkshire & Humberside.
While London is the region with the highest rise in house prices, East Anglia and the North West have had a greater rise in the level of property transactions year on year.
Prefer pictures, see our Infographic