Feb 2016 House Price Watch
Feb 2016 House Price Watch indicates house prices are up on average 1.0% in the past month and up 6.7% in the past year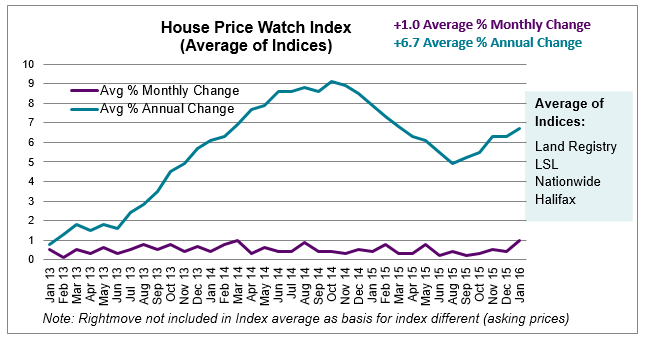 Biggest monthly rise in house prices for almost 2 years
Feb 2016 House Price Watch indicates that house prices increased on average 1.0% in the past month; the biggest rise we have seen since March 2014.  The average annual rise in house prices climbs to 6.7%.
Home sales are also up.  UK home sales are up 1.9% between November and December and up 11.6% year on year (seasonally adjusted HMRC).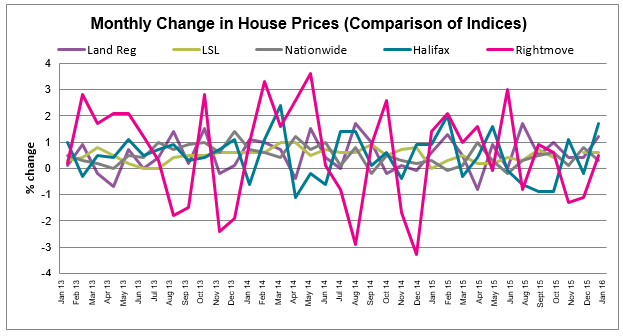 January activity suggests planned stamp duty changes may already be helping first-time buyers
Rightmove report welcome news for first-time-buyers with a 6.6% year on year rise in the number of new instructions with two bedrooms or fewer; the highest rise since 2007.
Price rises of one and two bedroom properties are static according to Rightmove data suggesting the impending rise in stamp duty to 3% on Buy-to-Let/ second homes may be having an impact already.
Underlying economic conditions: rising employment, wages and continued low interest rates are expected to sustain strong demand. Initial activity in the new year suggests that seller enquiries are picking up (up a modest 1.8% year on year uplift in newly marketed properties according to Rightmove). With continued strong demand and supply increasing, early signs in 2016 point to an active year for the housing market.
There remains a significant gap between demand and supply and upward pressure on house prices is expected to continue.  Concerns remain that construction activity will fall short of demand, house prices will rise and eventually reduce affordability.
Regional Summary
Regional Land Registry data from December indicates that average monthly house prices have risen significantly in a number of regions:  up 2.1% in London, up 1.7% in the East, up 1.2% in Yorkshire & Humber and up 1.1% in the South East and West Midlands.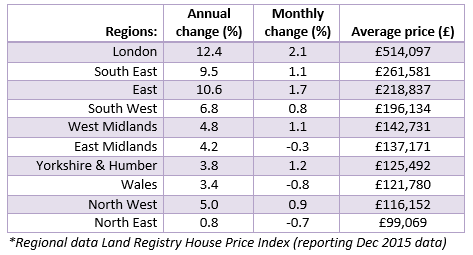 Prefer pictures, see our Infographic
To see how we calculate our House Price Watch click here and to see previous reports click here
Share this page:
Sign up to our

FREE

weekly newsletter

for the latest news, advice and exclusive money saving offers
Let us help you…