December 2014 House Price Watch
This month's House Price Watch indicates house prices are up on average 0.3% in the past month and up 8.9% in the past year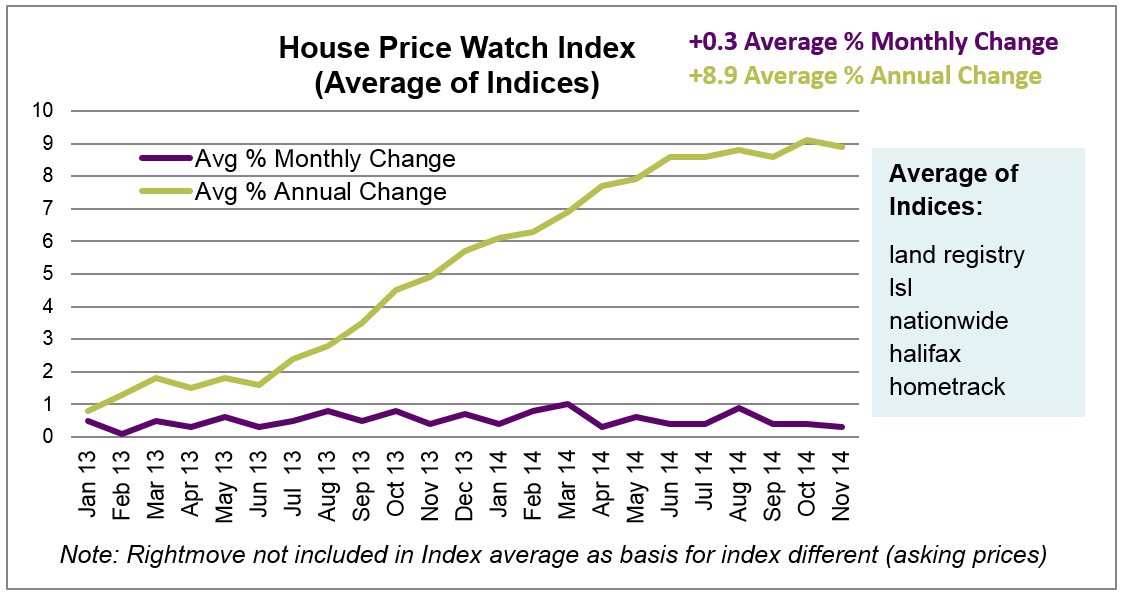 Slowing trend continues but reports are upbeat for the New Year
HMRC September data indicates that house sales have contracted for the seventh month in succession and are currently 11% below their peak in February 2014.
Similarly, mortgage activity is declining.  Nationwide notes that approvals are almost 20% below the level at the start of 2014 and Halifax indicates that mortgage approvals in September are at a 14 month low.
Buyers have become cautious in recent months with reports of inflated house prices and an expected interest rate rise in 2015. In fact, a recent Halifax survey indicates that many borrowers are concerned about the impact a rise could have on their monthly mortgage repayments over the next 12 months.
While housing market activity and house price rises have slowed, the overall economic outlook remains upbeat.  The economy is growing, employment is rising, consumer confidence, including retail activity, is up and mortgage rates remain historically low; suggesting housing market activity is likely to pick up again in the months ahead.
Rightmove experienced record traffic during last year's festive season (1.3 million visits on Boxing Day rising to 2.2 million by the first working day of the year) and is encouraging sellers to be ready again. "Sellers who wait until after the Christmas break to get on the market will miss the wave of activity from festive browsers who start their search even before the turkey is finished."
Regional Summary – In past month, biggest rise in average house prices in South East and East
Declines are noted in the North East, North West, East Midlands and Wales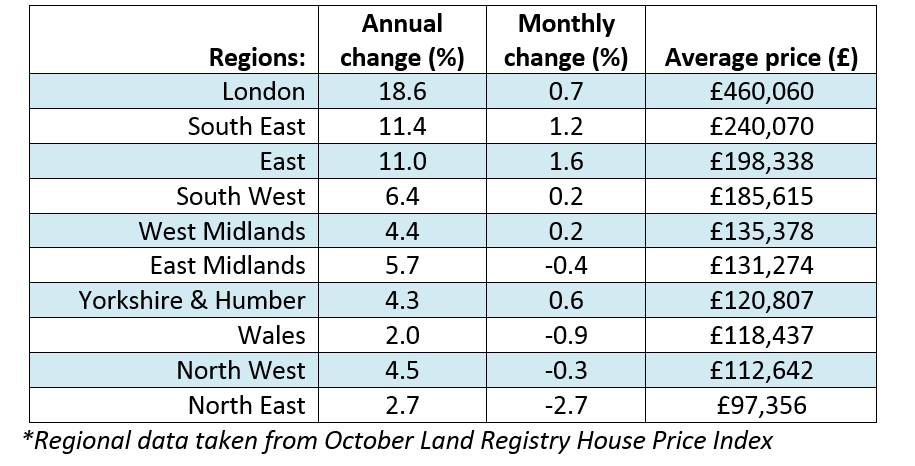 Prefer pictures, see our Infographic
To see how we calculate our House Price Watch click here and to see previous reports click here
Sign up to our

FREE

weekly newsletter

for the latest news, advice and exclusive money saving offers
Let us help you…