Dec 2017 House Price Watch
Nationally house prices are unchanged in the past month and up 2.9% on average in the past year.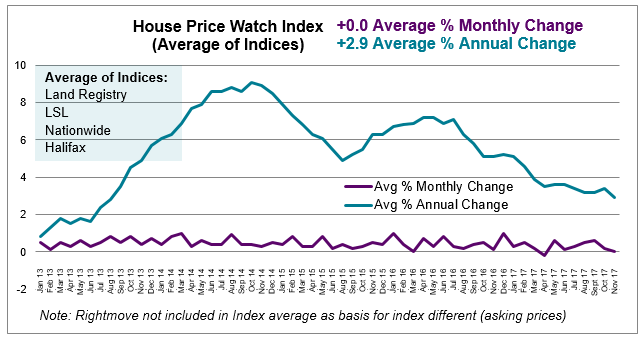 House prices stable over past month while rate of annual house price growth slows
There is a mixed picture from the major indices over the past month:
Halifax (0.5%) and Nationwide (0.1%) report a rise in house price growth over the past month.
LSL (0%) say monthly house prices are stable.
Land Registry (-0.5%) and Rightmove (-0.8%) report a fall in house prices.
Land Registry and LSL refers to October house price data. Nationwide, Halifax, and Rightmove refer to November house price data.
Across the major indices, house prices are unchanged in the past month and up 2.9% on average in the past year (Rightmove is excluded from the average). The trend of slowing house prices in 2017 continues.
Home sales increase in October
UK home sales are up 1.7% between September and October 2017.
Transactions are 9.2% higher than October 2017.
However, mortgage approvals for house purchases, which are a leading indicator of completed house sales, are down 2.3% between September and October.
Market Commentary:
HomeOwners Alliance: "Annual house price growth continues its slowing trend and looks set to continue. While there was strong housing activity in October, increasing affordability pressures as inflation outstrips wage growth is likely to have a dampening effect on demand a continuing slower pace of house price growth."
Nationwide: "Low mortgage rates and healthy rates of employment growth are providing support for demand but this is being partly offset by pressure on household incomes which appears to be weighing on confidence. The decision in the Budget to abolish stamp duty for first time buyers purchasing a property up to £300,000 is likely to have only a modest impact on overall demand as many first time buyers already paid little or no stamp duty."
Halifax: "The imbalance between supply and demand continues to support house prices which doesn't look like changing in the near future. Further ahead, increasing affordability issues, as price increases continue to outstrip wage growth are likely to curb housing demand and cause price growth to ease. We do expect the Government's first-time buyer Stamp Duty changes to provide some stimulus to demand, particularly in London and the South East where the impact is greatest."
Rightmove: "Increasingly stretched buyer affordability exacerbated as intended by tighter lending criteria and increased stamp duty for second homeowners is taking its toll on upwards price pressure."
Regional Summary:
In the past month, house prices fell in many parts of the country including the North West (-2.0%), Yorkshire & Humber (-1.1%), London (-0.9%) and the North East (-0.1%).
Areas experiencing the highest annual house price growth include the East Midlands (7.0%), South West (6.7%) and the East of England (6.1%).
Annual house price growth is slowest in London (2.1%) and the North East (2.4%).
To see how we calculate our House Price Watch click here and to see previous reports click here
Sign up to our

FREE

weekly newsletter

for the latest news, advice and exclusive money saving offers
Let us help you…