Aug 2016 House Price Watch
Aug 2016 House Price Watch indicates house prices are up on average 0.3% in the past month and up on average 7.1% in the past year
Buyer demand falls but house prices continue to rise given tight supply
House price indices for June and July range from a low of -1% (Halifax) to a high of 1% (Land Registry).  On average across the major indices, house prices are up 0.3% in the past month and up 7.1% in the past year.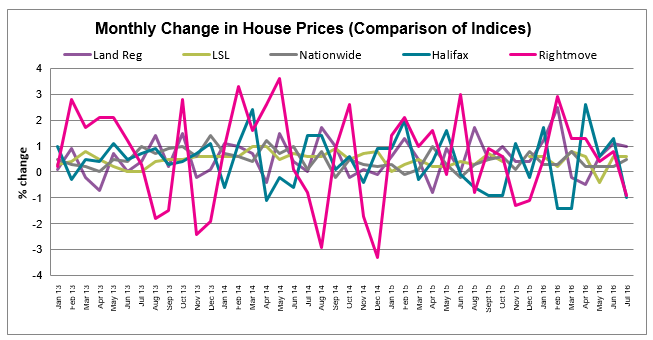 UK home sales in July are 8.3% lower than the same month last year (HMRC seasonally adjusted figures). Transactions are below 2015 levels in April, May, June and July after record transactions in March (ahead of stamp duty changes on second homes). Even so, UK home sales March-July 2016 are 6% higher than the same period last year.
In the immediate term, it will be difficult to determine whether any drop in transactions is as a result of a rebalancing of early year activity or the impact of the referendum result.
Hesitancy among buyer and sellers is expected in the short term until greater certainty around the economic impact of Brexit plays out. Buyer enquiries between June and July softened (down 5% report Rightmove). Time will tell whether the Bank of England cut in interest rates will help to boost confidence and a return in buyer numbers in the autumn. New instructions from sellers have fallen for the fourth month in a row (RICS).
With the stock of homes for sale very low, tight supply is likely to keep upward pressure on house prices.
Regional Summary
House prices are up in most regions according to June Land Registry data.  Prices are down slightly in North East and West Midlands regions.
London has been tipped as the market most likely to be affected by Brexit. While it is too soon to tell the impact post Brexit, London house prices are growing at a slower rate than earlier in the year and are reported by Rightmove to be taking longer to sell.
Prefer pictures, see our Infographic
To see how we calculate our House Price Watch click here and to see previous reports click here
Share this page:
Sign up to our

FREE

weekly newsletter

for the latest news, advice and exclusive money saving offers
Let us help you…