April 2014 House Price Watch Report
This month's House Price Watch indicates house prices are up on average 1% in the past month and up on average 6.9% in the past year

Housing market gathers pace with largest monthly rise in 15 months
Reports indicate property transactions are continuing to rise and are estimated to be up 30% year on year according to Land Registry data.  LSL estimates transactions are up 49% in Jan/ Feb 2013 vs Jan/ Feb 2012.
According to recent CML data, housing demand growth in 2013 has come primarily from first-time buyers (up 23% compared to 2012), buy-to-let landlords (up 19%) and home movers (up 3%). As CML figures do not include cash sales (the home movers segment is likely under represented as downsizers may  not be captured).
Demand for housing is still running at a higher rate than supply (demand grew by 6.6% in March with supply up 1.9% according to Hometrack). Rightmove indicates new properties are up 3.4% on last month.
With a shortage of supply, the proportion of properties achieving the asking price is at its highest for a decade – 96% nationally and over 99% in London (according to Hometrack).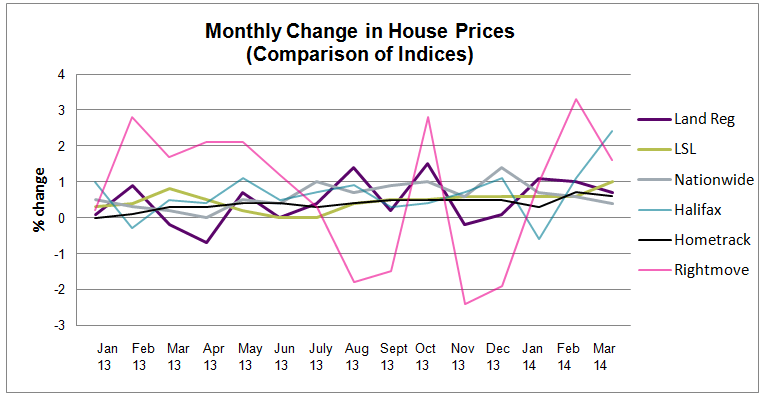 House prices are up in all regions but the North East this month
Price rises are spreading across the country – significant house price rises have been evident for some time in the South and East and now extend to the Midlands.
House prices in London are soaring, up 13.8% over the past 12 months; the average home now costs over £450,000.
The North East is the only region to have experienced declining house prices; the average house price is below £125,000.
 Prefer pictures, see our Infographic
Sign up to our

FREE

weekly newsletter

for the latest news, advice and exclusive money saving offers
Let us help you…