Apr 2017 House Price Watch
April 2017 House Price Watch indicates that house prices are up on average 0.2% in the past month while average annual house price growth slowed further to 3.9% in the past year; the lowest average annual rate of house price growth since September 2013.
Annual house price growth continues to slow – particularly in London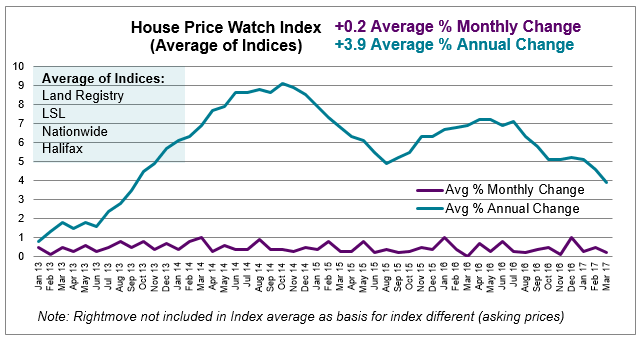 Halifax and Nationwide indices reporting March show no growth or negative growth in monthly house prices: 0.0% Halifax, -0.3% Nationwide, while LSL and Land Registry (ONS) indices reporting February show a rise in house prices: 0.6% LSL, 0.6% Land Registry.  Rightmove report a rise of 1.3% in asking prices in March.
UK home sales decreased by 0.7% between January 2017 and February 2017; 1.9% lower compared with the same month last year.  (HMRC seasonally adjusted figures).
Similarly, mortgage approvals for house purchases, a leading indicator of completed house sales, fell by 1% between January and February to 68,300. (Bank of England).
RICS March residential market survey indicates new buyer enquiries and sales are flat and new sales instructions have dropped further in March leaving the stock of homes available for sale at a record-low.
Commentary: cautious market sentiment reflected in slower annual house price growth
HOA: "Cautious market sentiment is reflected in slower year on year house price growth particularly evident in London. The East of England and the Midlands are leading annual house price growth.  Overall market activity remains subdued and house price values continue to be held up by the low number of properties for sale."
Halifax:  "Annual rate of house price growth has nearly halved over the past 12 months.  A lengthy period of rapid house price growth has made it increasingly difficult for many to purchase a home as income growth has failed to keep up, which appears to have curbed housing demand."
RICS: "The UK housing market continues to lack impetus, with new buyer enquiries and agreed sales stagnant in March. The number of properties coming on to the market also dropped further. High-end sale properties in central London remain under pressure, while the wider residential market continues to be underpinned by a lack of stock."
Rightmove: "The annual rate of increase in the price that new-to-the-market sellers are asking for their property remains modest.  The prices set by house sellers and their estate agents are a leading indicator of market sentiment and these figures demonstrate the slower pace of increases."
Regional Summary: annual house price growth slows sharply in London; fastest growth in East and Midlands
Regionally, the East of England and Midlands are experiencing the biggest rise in annual house price growth, while London, the North East and Wales are experiencing the lowest rates of annual house price growth.
Prefer pictures, see our Infographic
To see how we calculate our House Price Watch click here and to see previous reports click here
Share this page:
Sign up to our

FREE

weekly newsletter

for the latest news, advice and exclusive money saving offers
Let us help you…