Apr 2016 House Price Watch
April 2016 House Price Watch indicates house prices are on average unchanged in the past month and up 6.9% in the past year
Rate of monthly house price growth begins to level off
The start of 2016 began with increased market activity and a rapid rise in house prices. Activity has remained strong through Q1 2016 with UK home sales up 5.5% between January and February and up 16.1% year on year (seasonally adjusted HMRC).
However, we are beginning to see house prices settle down with UK average house prices stable over the past month and annual house price growth up slightly to 6.9% in this month's House Price Watch (average of indices).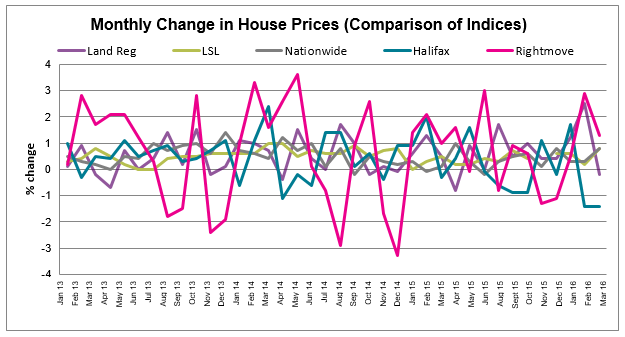 The supply of homes for sale remains low but has eased slightly with new instructions by homesellers reported by RICS to be up in December and January and the supply of newly built homes in 2015 up 20% on the previous year with the highest annual total since 2008. (Source DCLG)
Uncertainty in the months ahead
It is expected that stamp duty changes on second homes coming into effect in April have brought forward transactions from those wanting to avoid additional tax liabilities.
Looking forward, a slower property market is anticipated.  The upcoming stamp duty changes on second homes are expected to take the heat out of the investor market and uncertainty around the EU referendum and the impact of Brexit could also slow activity.
Regional Summary
Regionally, we can see that the surge in house prices in London has begun to temper.
A number of regions have experienced a deceleration in house prices in the past month with prices down in the North East (-1.2%), West Midlands (-0.3%) and Wales (-0.15).
The North West (1,8%) and the East Midlands (1.5%) have seen the biggest monthly rises in house prices.
Prefer pictures, see our Infographic
To see how we calculate our House Price Watch click here and to see previous reports click here
Share this page:
Sign up to our

FREE

weekly newsletter

for the latest news, advice and exclusive money saving offers
Let us help you…