Real vs Artificial Grass
What do you do if your lawn is looking worse for wear? Here, we look at the pros and cons of real turf and artificial grass.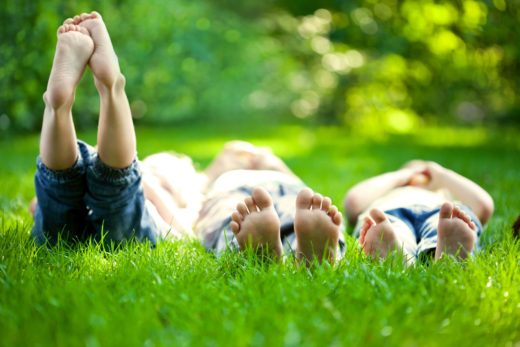 Us Brits love grass lawns. They are a defining feature of our suburbs and are in most people's gardens. Yet they do require regular upkeep. At a bare minimum, you have to mow them regularly, strim the edges and dig out the weeds.
If you have lovely-looking grass on your lawn, chances are it will stay like that. But not all gardens are as fortunate. For some, the lawn can be the most high maintenance thing in their garden.
So, here we explore the pros and cons of real turf vs artificial grass.
Real grass
A newly turfed lawn can transform a tired garden into an attractive outdoor space. The process of laying the turves (rolls of turf) is not difficult and you can start using the lawn within a few days.
Most of work is in the soil preparation. It involves stripping the old lawn and a lot of weeding, digging, levelling and raking.
The turves ideally need to be laid within 24 hours of delivery, so you need to work relatively quickly. After it has been laid, it needs to be watered frequently until it has rooted into the underlying soil.
If you want to cultivate a lawn that is long-lasting, make sure you buy the right variety of turf. Many products are described as multipurpose but they may not be suitable for your garden.
One square metre of multipurpose lawn turf starts from £2 to £3. You may also have to buy top soil if your existing soil is poor. A 750 litre bag of top soil will cover 15 to 20 square metres to a depth of 55 mm. It costs around £120.
You'll need to water it – a lot – when first laid. But thereafter, even in the hottest summers, established lawns do usually recover naturally from dry spells, despite going a little yellow, even without watering.
If your current lawn is suffering from weeds or moss or just never taken properly, you can have your lawn treated by a lawn maintenance company. These services can treat your lawn regularly throughout the year or do a one off treatment. Check the products they use are organic and safe for children, wildlife and the environment.
Find a garden service to help with your lawn.  You can search for a range of garden services with our partners at Checkatrade 
Artificial grass
More people are opting for synthetic grass in their gardens because they require minimal upkeep. They can also work well in a small space and for people who find garden maintenance difficult or expensive.
Artificial grass doesn't need to be mowed and you get a green lawn all year round. It can't be dug up, which is why it is particularly popular with families who have young children and dogs.
Previously, synthetic lawn turf looked very similar to the mats you used to get on greengrocers' displays. Now, you can get products that are a convincing alternative to real turf.
The fibres are cut at different lengths and are in a range of greens and browns, which gives the grass a natural look and feel.
If the lawn is laid and looked after properly, it can last approximately 7 to 10 years.
The main downside is that you won't get the lovely cut-grass smell and the same biodiversity as a real grass lawn.
Some maintenance is also required. It needs to be swept and watered occasionally. You may get algae and moss growing on the grass and bird poo stains, but they should be easy to remove with hot water and household detergent.
One square metre of artificial grass typically cost around £20 excluding VAT and installation costs.
So, should you fake it or not?
If you're fed up with your lawn looking like a mud bath/dry and patchy, artificial turf will probably sound hugely appealing. They suit gardens that get a lot of wear and tear all year around.
As we said, it is possible to improve your lawn. Get a specialist round to look at what the issue is. For example, a soggy garden can be addressed by improving the drainage if you put down the right top soil, according to lawn turf specialists.
If you do opt for artificial grass, the installation is the key to its longevity. If it isn't laid properly, it could look ropey quite quickly.
Synthetic turf specialists are unlikely to offer a guarantee on their product if they have not laid it themselves, so it may be worth paying for the installation costs if you don't feel confident about doing it yourself.
But nothing beats a real lawn – as many readers below have testified! It's cheaper to lay, more environmentally friendly overall, means you're not contributing to the worlds plastic production and landfill (as you would be with a fake lawn) and creates a wonderful space for wildlife to inhabit.
Lawn or Turf – tell us what you think in the comments box below