Buying or selling a house with Japanese Knotweed
Japanese Knotweed is an intense subject which can scare the living daylights out of people. But it's risk has been overstated and recent guidance issued in 2022 looks to take a more balanced approach. So whether you're buying a house with Japanese Knotweed or selling one, here's everything you need to know.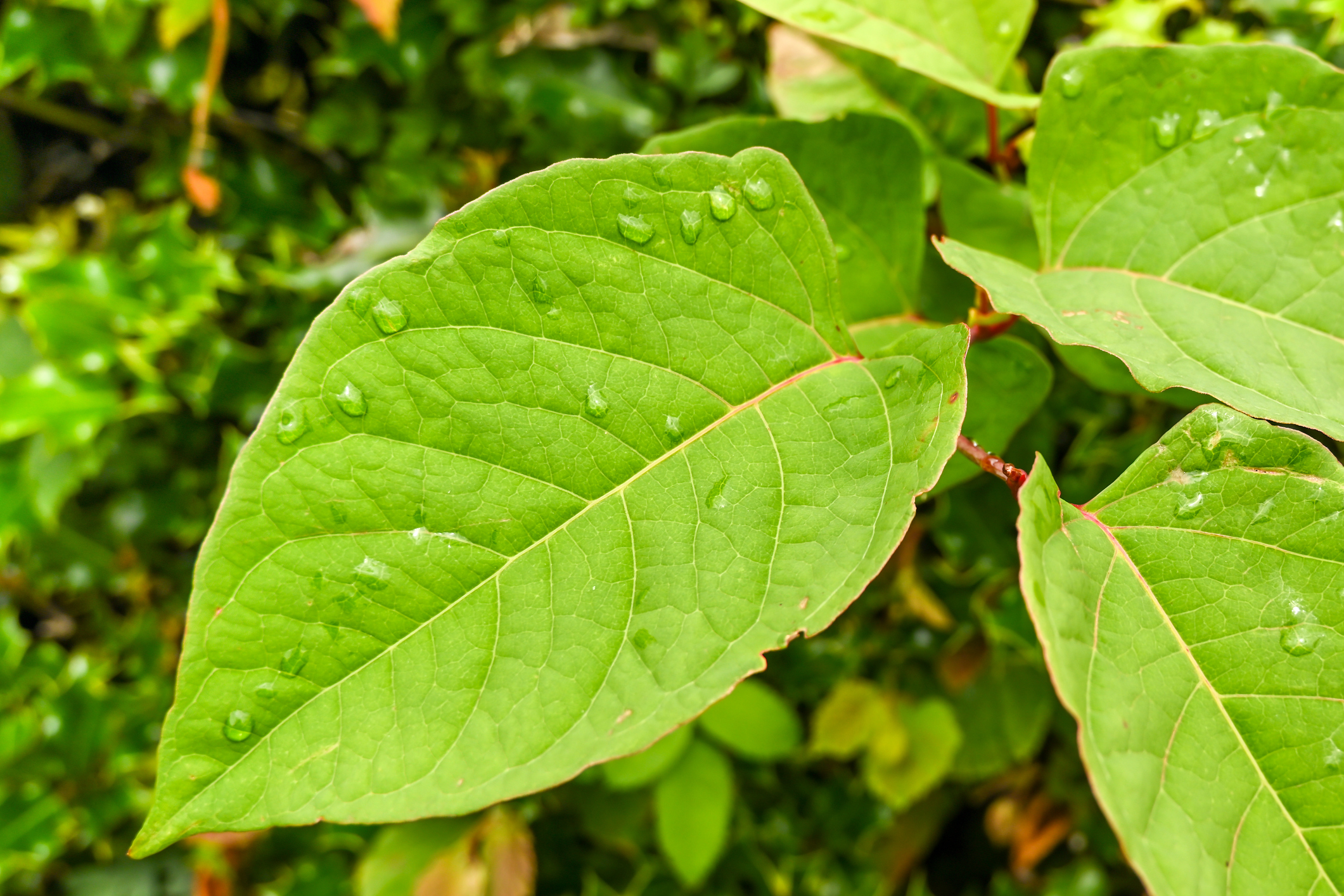 Should I avoid buying a house with Japanese Knotweed?
Buying a house with Japanese Knotweed and wondering if you should proceed? The presence of Japanese Knotweed is an increasingly common problem highlighted in surveyor reports.
According to research by invasive plant specialists, Environet, approximately 1% of properties in the UK have knotweed. If we also include those properties that share a border with affected properties and are at risk from encroachment the figure could be more like 5%. According to Office for National Statistics there are approximately 27.8 million dwellings in the UK. That's a whopping 1.39 million homes that might be affected by Japanese knotweed.
So should you cut and run rather than consider buying a house with Japanese Knotweed? Let's look at all the facts.
Why is Japanese Knotweed bad?
The impact on homeowners of having Japanese Knotweed on their properties can be significant. This is because it was believed that the plant's deep roots meant it had potential, if unmanaged and found within 7 metres of the property, to cause major structural damage to properties. As a result, people buying a house with Japanese Knotweed often found it difficult to get a mortgage. As a result many home sellers faced the expense of paying for treatment plans. And the invasive species' damage doesn't stop there; if found, it's presence has been known to wipe up to 15% off a property's value.
Japanese Knotweed mortgages
In previous years, if the words Japanese Knotweed were in the surveyor's report commissioned by the mortgage lender, that would be enough for some lenders to decline a mortgage application. So if you were buying or selling a house with Japanese Knotweed, this was obviously an enormous problem. This position has evolved over time with many lenders choosing to look at applications on a case-by-case basis. There is still no industry-wide standard when it comes to Japanese Knotweed and each lender has its own lending criteria. However, RICS has a sliding scale of category 1 to 5 when it comes to the severity and this broadly fits how lenders will view your Japanese Knotweed problem.
For example, if Japanese Knotweed is found within 7 metres of your property, some lenders will require a specialist report and the provision of an insurance-backed treatment plan. However, some lenders will still decline your application if the invasive weed is found within that proximity of your home.
Buying a house with Japanese Knotweed in 2022
In January 2022, RICS published updated guidance due to come into force in March 2022 that abolished the 'seven metre rule' regarding Japanese Knotweed in favour of a more lenient approach that means surveyors can use their discretion when assessing the impact of the presence of knotweed.
RICS said the updated advice "reflects an improved understanding" of Japanese Knotweed, adding, "The so-called 'seven metre rule' focused more on what has been demonstrated to be an overstated risk of Japanese Knotweed to buildings, rather than its sometimes-serious impact on amenity."
The body said research has demonstrated, and it's now generally accepted, that Japanese Knotweed poses little or no risk of structural damage to robust buildings with substantial foundations such as dwellings, as opposed to less sturdy structures with shallow foundations, such as conservatories, garages or boundary walls.
RICS said it also recognises that when Japanese Knotweed is encountered, the most appropriate objective is to 'ensure an appropriate level of control rather than to automatically strive for eradication.'
And the guidance also adds that in some cases, such as when construction is proposed, "proper control may involve physical removal but in many domestic situations effective control can be achieved by the managed application of herbicides". This is welcomed news if you're buying or selling a house with Japanese Knotweed
When it comes to mortgages, lenders have yet to respond to RICS' updated guidance. Experts say it's expected that lenders will need time to assess the changes and at the implications for them. But we shouldn't assume lenders won't move their position – the expert points to the "quite substantial movement" in the past.
Need advice on your lenders approach to Japanese Knotweed? Speak to a fee-free mortgage broker today
Selling a house with Japanese Knotweed
The TA6 form which your conveyancing solicitor will ask you to complete includes a section 7 on environmental matters, requiring you to tell prospective buyers whether your property has Japanese knotweed. You either need to answer yes or don't know. If yes, you will also be asked to give details of any management and treatment plan in place and supply copies of any insurance policy you have. See below for more on this.
What if my neighbour has Japanese Knotweed?
When it comes to mortgages, problems haven't only arisen when Japanese Knotweed is on your property. It has also caused problems if it's in a neighbouring property or public land nearby. However, the updated RICS guidance that doesn't appear to solve this issue. The updated guidance recommends that "surveyors flag the presence of the weed if it's visible within three metres of a property's boundary, such as in a neighbouring garden". However, it advised this would have "limited impact" and shouldn't affect mortgage lending. But critics argue this is vague and will result in lenders creating different interpretations of the rules, which means more uncertainty for homeowners.
What does Japanese Knotweed look like?
Japanese Knotweed can be recognised for its lime-green bamboo-like stem, speckled purple and red. It has heart-shaped leaves – with sprouts having a reddish tinge and turning a lime green. In the summer, they produce clusters of creamy-white flowers. And the plant's extensive roots can penetrate deep into the ground. Japanese Knotweed is fast growing and hard to eradicate.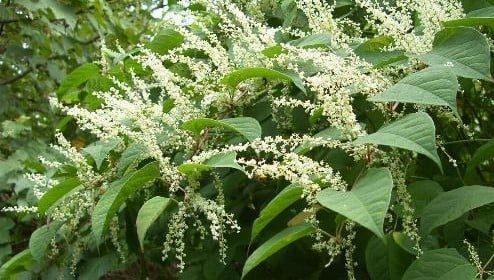 How to get rid of Japanese Knotweed
There are various methods of removing Japanese Knotweed. These include:
Weedkiller control
Perhaps the most effective and simplest method for the home gardener to tackle Japanese knotweed is with the glyphosate-based weedkiller Scotts Roundup Tree Stump & Rootkiller. This has label recommendation for controlling Japanese knotweed, instructing it to be applied to the cut canes. Bayer Garden Super Strength Weedkiller also has label control for this weed
Alternatively, try other tough formulations of glyphosate, for example Scotts Roundup Ultra 3000, Scotts Tumbleweed, Bayer Tough Rootkill or Doff Maxi Strength Glyphosate Weedkiller.
Glyphosate is usually applied to the foliage and is passed within the plant to the underground parts
It is useful to cut away old stems during the previous winter to allow good access. The best time for spraying with glyphosate is at the flowering stage in late summer. However, it is difficult to spray at this stage, when the weed is 2.1m (7ft) or more high
A more practical approach is to allow Japanese knotweed to grow to about 90cm (3ft), which will usually be reached in May, and spray then. There will be regrowth and consequently a second application in mid-summer is useful. Check during September and if it has grown once more, spray again before growth begins to die down in the autumn. Check again the following spring
Avoid spray coming into contact with garden plants. Glyphosate-treated knotweed will often produce small-leaved, bushy regrowth 50-90cm (20in-3ft) in height the following spring. This is very different in appearance to the normal plant and it is essential that this regrowth is treated
It usually takes at least three to four seasons to eradicate Japanese knotweed using glyphosate. Professional contractors, however, will have access to more powerful weedkillers that may reduce this period by half
Also, if you attempt this yourself, you should consider the fact you won't get an insurance backed guarantee. This could be important if you're planning to sell your property soon or if a neighbour is threatening legal action regarding the spread of knotweed from your property
Looking for help treating your Japanese knotweed? With our partners at Checkatrade you can search for garden service firms that deal with Japanese knotweed near you
Cultural control
Digging out is possible, but due to the depth that the rhizomes can penetrate, regrowth usually occurs. This method also creates problems over disposal as Japanese Knotweed is classed as 'controlled waste' under the Environmental Protection Act 1990. This requires disposal at licensed landfill sites. Specialist Japanese Knotweed contractors are usually licensed to safely remove the weed from site but check first before employing their services. Alternatively, it can be destroyed on site by allowing it to dry out before burning. On no account should Japanese knotweed be included with normal household waste or put out in green waste collection schemes
If digging out is attempted, remove as much root as possible, then repeatedly destroy regrowth. In this way the energy reserves in the remaining underground parts will be gradually exhausted; a process which may, however, take several seasons
Find out more from Royal Horticultural Society about how to deal with Japanese knotweed.
Japanese Knotweed removal cost
The cost of removing Japanese Knotweed will vary on factors such as what method of removal you choose to use and the size of the treatment area. According to Checkatrade, the starting cost for herbicide treatment is around £950 for an area of around two square feet. While the cost of digging out and removing it from a site typically starts at £4,000. But this will vary depending on the extent of the problem. Find a local specialist today and get a quote using our Checkatrade tool below.
Do I need to remove Japanese knotweed?
When it comes to Japanese Knotweed, there is more to consider than the ability to buy or sell your home. Most notably, if you allow it to spread off your land you could be prosecuted.
This is because an amendment to the Anti-Social Behaviour, Crime and Policing Act 2014 includes invasive non-native plants including Japanese knotweed.
So it's not illegal to have Japanese Knotweed in your garden. But you should aim to control it to prevent it becoming a problem in your neighbourhood. And if it has a "detrimental effect of a persistent or continuing nature on the quality of life of those in the locality", this legislation could be used in order to enforce its control. And as a property owner, you may be prosecuted. The first known prosecution was in 2018 when a Bristol property owner was fined £18,000 plus costs for failing to control the spread of Japanese Knotweed. Plus they were ordered to secure a plan within a month from a specialist company detailing how the issue would be resolved.
However, if you encounter problems with Japanese Knotweed in neighbouring gardens, the best course of action is to speak directly to your neighbours first. They may already be seeking action to control it.
For more information, see the guidance from The Environment Agency,
Related guides