Japanese Knotweed: How to spot it and deal with it
Japanese knotweed is an infamous plant that can wreak havoc for many homeowners. The plant lies dormant in winter but once summer arrives it can grow a foot a week and suppress other plant life in the garden. On a more serious note, it can jeopardise your chances of selling or buying a home, with some lenders refusing to grant mortgages due to the weed's destructive nature.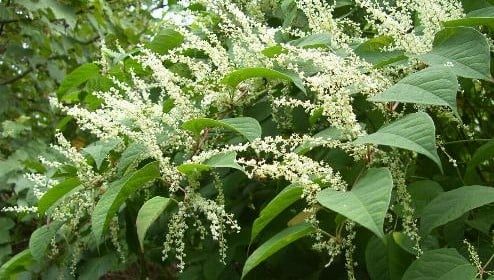 Japanese Knotweed can be recognised for its lime-green bamboo-like stem, speckled purple and red. The leaves are heart-shaped – with sprouts having a reddish tinge and turning a lime green. In the summer, they produce clusters of creamy-white flowers. The plant's extensive roots can penetrate deep into the ground – damaging house foundations, drainage systems and walls.
How does Japanese Knotweed affect me and my home?
Japanese Knotweed is fast growing and hard to eradicate. Its deep roots mean the plant has potential, if unmanaged, to cause major structural damage to properties. It can cause cracks in driveways whether tarmac and brickwork, and may block drains running under your property.
If a loan or mortgage provider come across the words "Japanese Knotweed" on a surveyor's report, it could endanger your hopes of buying or selling a home.
Some lenders will decline all mortgage applications for homes with Japanese Knotweed in or close by, while other lenders are more practical. Several mortgage providers look at applications on a case-by-case basis and will decide whether or not to lend based on how close the weed is to the property, and what steps have been taken to eradicate the problem.
At the very least then, a lender is likely to demand a professional eradication plan. This could cost thousands of pounds, require treatment over a few years with experts evidence provided by the treatment company and proof of a guarantee against the knotweed's return before a mortgage offer can be made.
Even if you're not planning to move, if you live in a property and then found Japanese Knotweed, you could face issues if you want to remortgage.
Need advice on your lenders approach to Japanese Knotweed? Speak to a fee-free mortgage broker today
How do I deal with Japanese Knotweed?
Our advice would be to deal with the plant as quickly and as privately as possible. The first thing to do after identifying the knotweed is to take photos of it and email them to a weed control company. Then, a specialist might charge for a site visit to survey the situation. You are then faced with the option to remove the knotweed yourself or pay a professional to do it.
It is not illegal to grow knotweed, but you must keep it under tight control and prevent it from spreading to neighbouring gardens.
If it is deemed to cause a 'detrimental effect of a persistent or continuing nature on the quality of life of those in the locality' then your local council can order you to dig it up and destroy it. Under the Wildlife and Countryside Act 1981, it is also an offence to allow knotweed to grow in the wild.
Looking for advice and help treating your Japanese Knotweed? You can find specialists in your local area with our  Checkatrade tool below.
Japanese Knotweed removal
Non-chemical controls
Digging out is possible, but due to the depth that the rhizomes can penetrate, regrowth usually occurs. This method also creates problems over disposal as Japanese knotweed is classed as 'controlled waste' under the Environmental Protection Act 1990. This requires disposal at licensed landfill sites. Specialist Japanese knotweed contractors are usually licensed to safely remove the weed from site but check first before employing their services. Alternatively, it can be destroyed on site by allowing it to dry out before burning. On no account should Japanese knotweed be included with normal household waste or put out in green waste collection schemes
If digging out is attempted, remove as much root as possible, then repeatedly destroy regrowth. In this way the energy reserves in the remaining underground parts will be gradually exhausted; a process which may, however, take several seasons
Biological control
A plant sucker (psyllid) is being released in the UK as a biological control for Japanese knotweed. It is currently only being released at a handful of trial sites and is not available to gardeners. However, if successful it will be released more widely and will become widespread in Britain over the next five to ten years by natural spread
Chemical controls
Perhaps the most effective and simplest method for the home gardener to tackle Japanese knotweed is with the glyphosate-based weedkiller Scotts Roundup Tree Stump & Rootkiller. This has label recommendation for controlling Japanese knotweed, instructing it to be applied to the cut canes. Bayer Garden Super Strength Weedkiller also has label control for this weed
Alternatively, try other tough formulations of glyphosate (e.g. Scotts Roundup Ultra 3000, Scotts Tumbleweed, Bayer Tough Rootkill or Doff Maxi Strength Glyphosate Weedkiller)
Glyphosate is usually applied to the foliage and is passed within the plant to the underground parts
It is useful to cut away old stems during the previous winter to allow good access. The best time for spraying with glyphosate is at the flowering stage in late summer. However, it is difficult to spray at this stage, when the weed is 2.1m (7ft) or more high
A more practical approach is to allow Japanese knotweed to grow to about 90cm (3ft), which will usually be reached in May, and spray then. There will be regrowth and consequently a second application in mid-summer is useful. Check during September and if it has grown once more, spray again before growth begins to die down in the autumn. Check again the following spring
Avoid spray coming into contact with garden plants. Glyphosate-treated knotweed will often produce small-leaved, bushy regrowth 50-90cm (20in-3ft) in height the following spring. This is very different in appearance to the normal plant and it is essential that this regrowth is treated
It usually takes at least three to four seasons to eradicate Japanese knotweed using glyphosate. Professional contractors, however, will have access to more powerful weedkillers that may reduce this period by half
Residual control
The residual weedkiller Bayer Ground Clear Weedkiller containing glyphosate/flufenacet/metosulam comes in a soluble sachet. It may provide a moderate check in growth, but because of the extremely persistent rhizomes, is unlikely to eradicate the weed
Find out more from Royal Horticultural Society about how to deal with Japanese knotweed.
Graham Ellis BSc(Hons) MRICS, Director, Greenhouse Surveyors, Southport says: 
"Japanese knotweed is an intense subject which can scare the living daylights out of people, but more often than not can be demystified and managed although maybe involving some cost."
Looking for help treating your Japanese knotweed? With our partners at Checkatrade you can search for garden service firms that deal with Japanese knotweed near you