How our homes are key to our happiness
As we start a new year, we look back to our research and TV presenter Georgina Burnett's own experience on how transforming her home helped her overcome post-natal depression.
Post updated: January 17th, 2022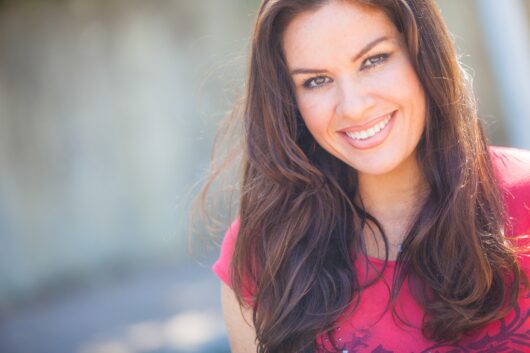 Following our research Georgina Burnett, BBC and ITV presenter and home interiors vlogger revealed how updating her home helped her overcome post-natal depression while new research shows how our homes are key to our happiness.
Georgina's story
Georgina had suffered a traumatic birth after a three-day labour and insufficient pain relief during her C-section, left her in agony. Although she fell instantly in love with her baby daughter Bonnie, now four, the Home Genie was left suffering anxiety and Post-Natal Depression.
Georgina and her husband Andy were doing up a run-down home at the time of Bonnie's birth. They had chosen stylish shades of grey for the walls, but Georgina found those did her mental health no good.
Georgina sought professional help including Cognitive Behavioural Therapy to help her battle her mental health difficulties and also filled her home with colour, light and plants as part of her recovery.
"The key to my recovery was changing my space. I banished the grey by introducing touches of strong colour throughout – yellow in the kitchen, fuchsia in the bedroom and orange and teal in the lounge. I also made sure I had an adult room to relax in where there was no baby paraphernalia, so I could remember who I used to be. Creating an area for exercise made it easier to feel good about myself.
"Getting better was a gradual process, but I know that making interior changes helped my recovery. It might seem relatively trivial, but our homes have a profound effect on who we are."
Research reveals that our homes are key to our happiness
And she is not alone. She is one of many people whose mental health has been positively impacted by their home and surroundings, as new research reveals.
According to our 2019 Homeowners Survey, polling over 2,000 UK adults online, in conjunction with Resi.co.uk, the key factors in promoting mental well-being and happiness include:
a well-maintained outside space (58%)
feeling safe with well secured locks (57%)
nice neighbours (55%),
good natural light/ large windows (53%)
a lack of night time disturbances (52%)
an organised, tidy space (44%)
low noise pollution (38%)
plenty of storage (37%).
House plants aplenty
Georgina reinforces the survey findings and says "As the Resi and HomeOwners Alliance survey suggests, nature has the most profound effect on our mood but I don't think we necessarily need outside space. We can get many of those benefits with lots of plants."
Georgina now helps others with a low mood to turn their homes into healthy environments full of colour, plants and a lack of clutter through her vlog The Home Genie.
Paula Higgins, Chief Executive, Homeowners Alliance, says: "Our homes and gardens are crucial to our well-being – we need them to be a safe haven that make us feel relaxed. It's vital that homeowners know how to finance home improvements and how to find reliable local tradespeople from decorators to gardeners. We provides all sorts of free advice on this to homeowners and those hoping to buy, as well as on how to declutter, how to solve disputes with noisy neighbours, and how to replace doors and windows with double glazing.
Alex Depledge, CEO of Resi, says: "We all know that it's nice to have a garden, but what this research shows definitively is the pivotal effect it can have on our mental health. At Resi, we are interested in what makes people happy in their homes and it's clear that outside space is top of the list.
Top tips for improving your space
– Personalise your space. Identify what makes you feel good – family photographs, favourite books, artwork, and quirky souvenirs – and use them tactically to boost your mood. And move things around every so often, so that you see – and appreciate – your space afresh.
– But don't use this as an excuse to build up clutter. Get rid of the things you don't love or need, so that the things that you do really stand out. Remember the 'useful or beautiful' aphorism and take all unwanted stuff to your local charity shop or use Any Junk to assist you with any bulky household removal items.
– Light is key. Our top client request is to maximise light and there's a reason for that. Healthy exposure to natural light is key to well-being as it helps to maintain your body's circadian rhythm. But at night you need complete darkness to sleep properly – so invest in some well-made blackout blinds.
– Fresh air can work wonders. Open your windows or front door to create air flow. And invest in some purifying houseplants to maintain your indoor air quality, or consider one of the many air filters on the market.
– Consider how you want to use your space and be completely honest. There has been a huge trend for open plan living in recent years, but sometimes 'broken plan' (where the overall space is open but there are a few sub-divisions) can work better. We all need places to retreat to and creating cosy nooks can help with this process. If you're planning serious home renovations, you may need planning permission.
Sign up to our

FREE

weekly newsletter

for the latest news, advice and exclusive money saving offers