Sponsored Post
The benefits of selling your home with multiple estate agents
We're often asked how to find the best estate agent. But why choose just one? We've asked Movewise, a new company that can manage the process of marketing your home with multiple agencies for you, to tell us more about the benefits of a multi agent approach.
March 4, 2020
When it comes to appointing an estate agent, you'll often hear phrases like:
"We've just sold two on your street"
"The market's really good right now"
"We have lots of buyers for properties like yours at the moment"
It all sounds quite compelling, and that's why most home sellers expect to sell their home easily and within a matter of weeks after appointing an agent.
But a few months into their sale, our survey of 100 home sellers found that 90% are having a bad time.
Survey question: How did you feel 2-3 months into your home sale?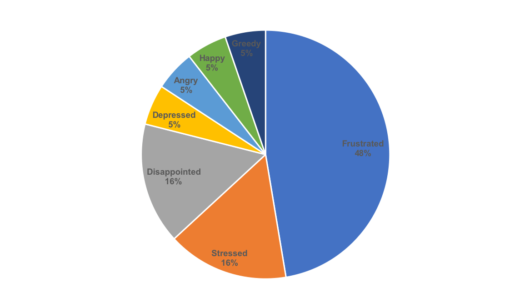 Avoid the disappointment – sell like a property professional
Estate agents take on average 6 months to sell a property and according to the housing market data firm TwentyCi, sell only half of what they list. Many of them, will encourage you to reduce your sales price after this initial honeymoon period of optimism ends.
But it doesn't need to take so long to sell a property and the process should be a lot more pleasant than it is for most sellers today.
Property professionals and investors sell houses by finding the two or three agents with the most buyers for a property like theirs, and then use them all one after the other until they sell.
So why don't more home sellers take this approach?
In short, because it's a real hassle; you'd have to interview all your local agents, review all their terms and conditions, negotiate with them all.  And because – traditionally – multi-agency has been expensive.
That's where we come in. Movewise can help you sell with multiple agents for the same price as you'll pay going direct to just one.
We sell houses twice as often, 2 months faster and for more money. (Movewise sales statistics are based on sales of newly listed properties after Movewise was instructed between May 2019 and February 2020. Other agent data taken from TwentyCi research. The same data showed a price drop rate of 20% for Movewise vs. 32% for estate agents on average.)
How does Movewise work?
Simple: we make sure you don't get stuck with one estate agent. And we expose your property to more buyers.
For the same fee as going direct to one agent – typically just 1.25% – Movewise uses technology to identify the agents likely to have the most buyers.  Then we sub-contract your local agents and manage them until your property is sold.
We specifically help you in:
Selling with the best estate agents
Movewise use technology to find the agents likely to have the most buyers for your property.  We are experienced agents ourselves and interview your local agents before summarising what we expect the agents to deliver and agreeing a marketing plan with you.
Avoiding contract negotiation
No one likes reading the small print. That's why you only sign once with Movewise and our terms and conditions are very friendly – you only pay on completion, there is no lock in, and if your house does not sell you don't pay anything.  Then we contract directly with the local agent, avoiding your local agent terms and conditions entirely.
Checking agents are delivering what they promised
Movewise monitors the viewings the agent is delivering.  If the frequency of viewings start to slow (which they can do), then we are able to stimulate more interest by bringing in another agent.
Reducing the price or not
Sadly many estate agents have internal price reduction targets.  It makes their life easier.
Of course every vendor wants to sell a house for the highest price they can get, but sometimes they'll pitch too high.
Movewise helps vendors navigate this by ensuring you've been fully marketed by at least the top agents for your property before they consider advising you to lower your price. 
Multi agency but without the high fees
Multi-agency used to only be the domain of the professionals and has always been quoted as being 2 – 3%.  This is no longer the case.  Movewise was created to ensure every home seller achieves the most from their property sale.  We deliver the home selling process of the professional to everyone.
Here at Movewise we are able to deliver all this for the same price as sole agency because we help agents and deliver the good ones repeat business. For an averagely priced home, we charge 1.25%*. We then pay the agent out of this fee contracted with you, so you wont pay any extra, and nothing before you sell.
* 99% of customers pay between 0.1% and 0.5% in fees to Movewise and 0.7% and 1.8% to agents for home values above £300,000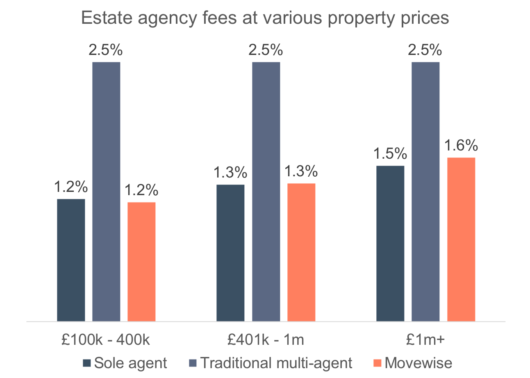 Get the most from your home sale
Selling a property using 2-3 of your local agents one after the other will produce a better result for you.
Give the team at Movewise a call now on 0203 409 4350 to hear how you can get the most from your property sale.
Sign up to our

FREE

weekly newsletter

for the latest news, advice and exclusive money saving offers
Let us help you…