Design ideas to transform your kitchen
Considering a kitchen redesign? We've asked Lucy Searle, Editor in Chief of Realhomes.com for the kitchen design ideas you need to know.
October 3, 2019
Your kitchen is the centre of your home and once you've got in your mind you want to revamp  it, it's tempting to dive straight in and hit the kitchen showrooms.
But before you do that, Lucy Searle of Realhomes.com has some kitchen design ideas you need to think about to create a space you'll love for years to come.
Kitchen design ideas start here
Write your wish list of what you want your kitchen to have. Then think about room layout.
Bear in mind that the most successful open plan kitchen diners have the kitchen sited in the deepest part of the room where it's darkest, with dining and living areas at the garden end of the room.
Start by plotting out your ideal kitchen's layout on graph paper yourself. Think functionality: put the dishwasher near the bin and sink to make emptying and rinsing plates before stacking easy. Put the washing machine well out of the way of the oven/hob so that cooking and laundry jobs don't interfere with each other. Can you create an optimal and unhampered "kitchen triangle" (the journey from the cooker to the sink to the fridge)?
Kitchen designers will come up with ideas fo you, but knowing what you want first means you can discuss with the designer in an informed way.
For more on how much kitchen renovations cost, how to fund them, and the professional you'll need, see our guide Kitchen Renovation: where do I start?
Clean contemporary lines or traditional cabinetry?
Your kitchen's design should ideally reflect the rest of your interior style. So, if your home's interior is highly contemporary, then modern, flat-fronted cabinetry and handleless designs will be a good choice.
If your rooms are more traditional or eclectic in style, a more classic look, such as a Shaker style door will be a good fit, as will reclaimed fittings, such as a freestanding butcher's block as an island, handles you've picked up from reclamation yards and appliances with a retro look.
Which colour cabinetry?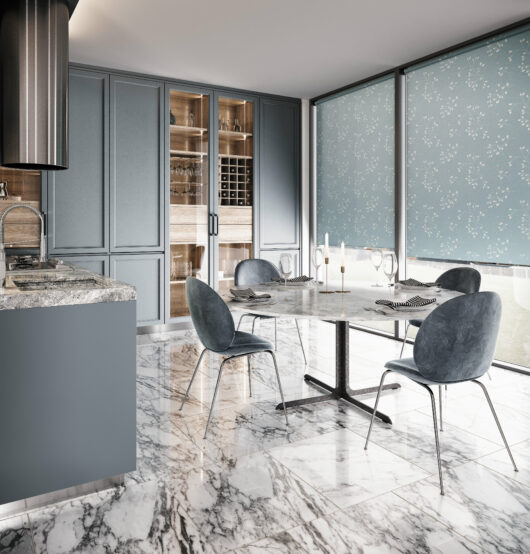 This is down to personal choice. The trend right now is for darker cabinetry, in grey, blue or black, but if you are thinking about moving any time soon, if your kitchen suffers from a lack of light or is small, a white kitchen is always going to be the best, most sellable choice.
Which material for cabinetry and worktops?
Look for longevity, whatever you choose. High gloss cabinetry is already dating as a trend, it shows smudges and scratches immediately and it's tricky to patch.
Any kitchen with a painted look, whatever its base material, can be repainted effectively in a matter of days (allowing you not just to renew its look but also its colour if you decide to be bold).
The same goes for worktops: wooden ones look rustic but need careful maintenance; composite, especially real stone lookalikes, are incredibly tough, need barely any maintenance and are hard to damage.
Find kitchen fitters in your local area today with our partners at Checkatrade
Dining at islands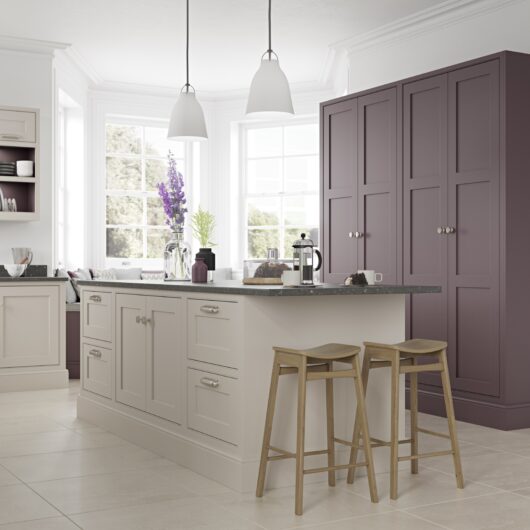 If your kitchen is large, you'll no doubt make room for a dining table and chairs. If, however, space is tight, a kitchen island, whether freestanding or as an attached peninsular, can not just offer space for seating, but can also house tons of useful storage.
No room for an island? Even a narrow breakfast bar can mean you have to depend less on eating in a separate dining room or in your living space.
Room for a larder?
Larders are having something of a moment. In an ideal world, we'd all have the space for a walk-in larder… but in reality, even one floor to ceiling cupboard given over to all your food will help you organise your kitchen more efficiently.
Kitchen splashbacks
If yours is a sleek, fitted kitchen, a continuous splashback to match – perhaps in a high gloss material such as toughened glass – will be a good choice. Or, to make the room's design simpler and space enhancing, you could continue the worktop material up on to the wall as a splashback.
For more rustic or informal kitchens, you may be better to only put a splashback, whether in stainless steel or Metro style tiles, behind the hob and sink areas of the kitchen, painting the walls in a moisture-resistant paint elsewhere. This will help cut the cost of your kitchen, too.
Boiling water tap or kettle?
Boiling water taps are something of a trend for kitchen revamps. And while they're expensive, they are cheap to run and economical with water usage. What's more, they will save you space on your worktops since you won't need a kettle too, and quality designs can dispense not just boiling water but hot water, cold water, fizzy water and filtered water.
Choosing the right kitchen sink
The material you choose will largely depend on your budget – with stainless steel being cheaper than ceramic, and ceramic cheaper than composite or Corian, for example. From a design point of view, try to match the material you pick with other elements in your kitchen. So if, for example, your kitchen is traditional, a ceramic sink will be your best choice; if it's got an industrial edge, a stainless steel design will pass; contemporary kitchens are more appropriate for modern composite materials.
Plan kitchen lighting early
This needs to be done when you're first planning the kitchen's layout. Ensure you include ambient, task and accent lighting so that the room is practical to work in (think: task spotlights over worktops sited so that they won't throw your shadow over what you're prepping or cooking and dimmable ambient lighting that can change the mood of the room at the flick of a switch) and good looking (think: accent pendants over a kitchen island or dining table or light strips highlighting the underside of cabinetry).
Ventilation and extraction
Building regs (and good sense) require good ventilation and extraction in a kitchen; an overhead extractor is the most traditional option, while a downdraft design, which slots into your kitchen worktop and can pop up at the touch of a button, is a more expensive, slightly less effective but more space-enhancing choice.
In both cases, you need to decide on extraction or recirculation of air. Or you have the choice of an extractor fitted neatly into an exterior wall so you can do away with an overhead or downdraft design completely.
Find a local architect and local structural engineer now and speak to them about your kitchen design ideas
Pick the best kitchen flooring
This has to be hard wearing, able to deal with spills and moisture, and good looking. Bear in mind that light-coloured, smooth or high gloss flooring such as highly polished limestone tiles will bounce lots of light around the room and be easy to maintain, but will also show up every smudge and speck of dirt.
Solid wood isn't generally recommended but if well protected and maintained, it will bring warmth and texture to an otherwise simply furnished room. A better choice might be engineered wood, which copes better with changes in temperature and moisture levels.
Looking at laminate? Pick one that is water-resistant. Vinyl is a budget-friendly buy that's durable, too – plus you can pick designs that effectively mimic natural materials, such as wood. For modern kitchens, rubber is another excellent option and, like vinyl and wood (and unlike tiles), will feel bearably warm underfoot. Resin and poured concrete are other options to consider in contemporary kitchens, but these are expensive to install and your sub-floor needs to be suitably prepped, too.
For more on how much kitchen renovations cost, how to fund them, and the professional you'll need, see our guide Kitchen Renovation: where do I start?
———————
With thanks to Lucy Searl at Realhomes.com for her guest blog of kitchen design ideas and associated images
Sign up to our

FREE

weekly newsletter

for the latest news, advice and exclusive money saving offers