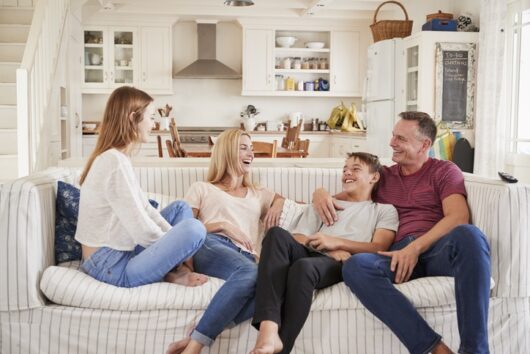 Are you among the millions of Brit's struggling to relax at home? – Ideal Home
Millions of Brits are struggling to relax in their "stressful" homes, new research has revealed in the news this week. A study of 2,000 adults found a lack of space, poor natural lighting and paintwork which needs touching up mean more than a quarter are unhappy with their home's appearance.
The study by David Village Lighting found that around one in eight went as far as to say it leaves them feeling stressed in what should be their sanctuary with women far more likely to feel this way.
Just two thirds consider their home to be relaxed, with another one in seven describing it as a 'chaotic' environment. It also emerged nearly a third think more work is needed on their home to optimise the space they have.
A spokesperson for David Village Lighting said: 'Our homes reflect our personalities, so it's important to make the most of what you have, even if space is at a premium. Small improvements and adjustments to elements like lighting, furniture and even arrangement can completely transform a space, and many homeowners may not realise what these tweaks can achieve.'
Our own research at HomeOwners Alliance has also revealed that our homes are key to our mental well-being so follow our tips on how to create a great space to improve your happiness.
______________________________
Labour plan to replace inheritance tax with a lifetime gifts tax will see Xmas gifts taxed' – thinktank – The Express
Inheritance tax should not be scrapped as it would cost the Treasury up to £5billion, critics claimed in the news this week.
Inheritance tax raised £5.3billion for the Treasury in 2018. In an independent report 'Land for the Many', the Labour Party unveiled proposals to reform inheritance tax, and replace it with something described as a "lifetime gifts tax".
The current scheme allows up to £475,000, or £950,000 for couples, to be passed on without tax – but under Labour's new proposals, everything a recipient receives above £125,000 would be taxed annually at standard income tax rates. The threshold would be set for each child, so two children could inherit an estate worth £250,000 tax-free. Anything above the threshold would be taxed.
With property prices increasing in recent years, so too has people's wealth, making inheritance tax an issue drawing ever more families into its net. But with a little planning, it is possible to reduce the portion of your estate that is lost in the current inheritance tax restrictions – or even escape inheritance tax altogether – by following our guide to how to keep on top of inheritance tax.
______________________________
Buying a home instead of renting could leave you £352,500 better off over 30 years – even if house prices never rise – This is Money
Buying a home instead of renting could leave the average property owner £352,500 better off over 30 years – even if house prices fail to rise, new research has claimed in the news this week.
The research, from trade body the Intermediary Mortgage Lenders Association, calculated that monthly mortgage repayments on the average £230,000 home could be £133,700 cheaper than paying rent over three decades living there.
At the end of that period, buying would also net the homeowner £218,800 in equity from paying off their initial 95 per cent loan-to-value mortgage of that amount.
The report sought to highlight the disparity in future prospects for those able to buy  a home and those excluded from the housing ladder by high property prices.
While interest rates are eventually likely to rise from their very low levels now during the next 30 years, the report claimed that mortgage rates would have to be in excess of 11.5 per cent throughout the life of a loan before owning and renting produced equal expected financial returns.
Click here to read the full story
______________________________
Be first in the know with all the latest housing and property news, plus weekly offers and show tickets by signing up to our HomeOwners Alliance newsletter