Fire safety precautions for high rise flats
Following the devastating fire at Grenfell Tower, many homeowners have raised concerns about fire safety in their flats. We look at the steps you can take.
September 19, 2019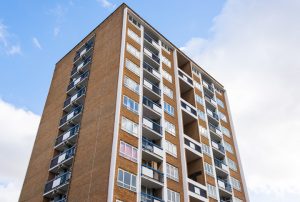 Fire safety in your flat
In the early hours of Wednesday 14th June, a devastating fire ripped through the Grenfell Tower block in West London. Despite a heroic effort from London firefighters, the number of fatalities is expected to rise.
Following this horrific incident, homeowners with properties in tower blocks have understandably been left deeply concerned about fire safety. So we look at the steps you can take to maximise fire safety in your flat.
If you are concerned about safety measures in your property contact the management company and ask for reassurance about safety measures and annual tests. (This information should have been provided anyway but if it's not, be sure to ask for it)
Under the Regulatory Reform Order 2005, managing agents or freeholders are required to organise a fire risk assessment to be carried out in blocks of flats or a building containing common parts of two or more dwellings. The assessment will be carried out by the local fire and rescue authority. If this has not happened you can arrange your own fire safety check – for free – via your local fire service.
Make sure you understand the procedure for emergencies in your building. Understand where the exits are, keep your exits clear and make sure your keys are kept in an easily accessible place.
Test your smoke alarm every week.
Ask the managing agent to ensure smoke alarms within the halls are tested regularly.
If you don't feel like your management company is taking your concerns seriously or behaving correctly, you can contact the Association of Managing Agents (ARMA), the industry trade body.
ARMA should ensure the agent handles the complaint appropriately but if this doesn't happen you can make a complaint to the Ombudsman service that the agent is a member of. There are three redress schemes appointed by the government to resolve consumer complaints – The Property Ombudsman Service, the Property Redress Scheme and Ombudsman Services: Property.
The safety of residents should be a priority for the management company or freeholder of the tower block. If you don't think this is the case, you could also try raising the matter with your local MP.
If you still feel ignored then please get in touch with us at hello@hoa.org.uk.
The Prime Minister has now ordered a Public Inquiry into what went wrong at the Grenfell Tower and we will be watching the outcome closely to ensure any recommendations for building standards are upheld. To find out how you can help those affected by the fire visit: https://thekandcfoundation.com/
Sign up to our

FREE

weekly newsletter

for the latest news, advice and exclusive money saving offers
Let us help you…
Sign up to our

FREE

weekly newsletter

for the latest news, advice and exclusive money saving offers