5 things to know about investing in student property
If you've got a child moving away to university, investing in student property will be tempting. Here's what you need to know
July 17, 2019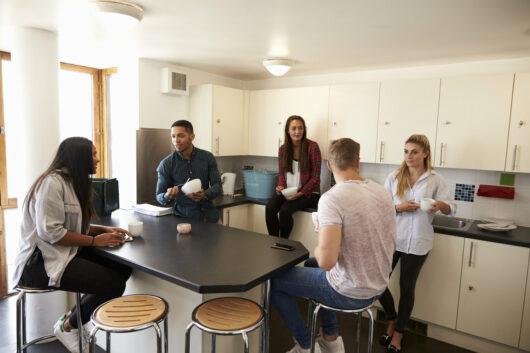 We may be enjoying the summer right now but the new academic year is just around the corner. And if you have a child hoping to head to university in September the chances are you're already thinking about the practicalities.
And it's at this point we often get asked by parents whether investing in student property for a child is a good idea. As well as the obvious benefit of not having to pay out for rent, people are attracted by the potential for high yields in certain university towns and the hope they will benefit from long-term rising property prices.
But before you jump in, here are just some of the things you need to consider:
1. Getting a mortgage could be tricky
If you're investing in student property for your child to live in when they are at university, then it's not just as simple as taking out a standard buy-to-let mortgage.  
When purchasing a standard buy-to-let property, landlords usually take out a mortgage that isn't regulated by the FCA.
However, if you want to let to a family member, such as your child, you will more than likely need to take out a regulated buy-to-let mortgage, also known as a family buy-to-let mortgage.
This means you will have a much smaller pool of lenders and deals to choose from. Plus you may find you need to put down a bigger deposit.
The best place to start is by speaking to a mortgage broker about your options.
Want to invest in student accommodation and need a mortgage? Get fee-free expert advice today from our partners at London and Country. You can start your search online or speak to them today
2. It's all about location
Do your research to make sure you understand the market before thinking about investing in student property. Establish exactly where you should be looking to buy. For example, in some areas, many university students want to live in specific places because that's where the majority of student houses are. While in other towns and cities, it's more important to be close to the campus. Find out what the most popular options are in the area you are looking to invest in.
Buying in the right location may mean your property is in much higher demand, making it a better long-term investment.
And the amount of money you can make can vary vastly too. A report last week by lettings platform Howsy found that Bradford's BD1 postcode offers the best investment for those buying a property to let out to university students. Just a short walk from the University of Bradford, buy-to-let landlords can secure yields of 10.2%. So make sure the figures work before you invest.
3. You could be hit by a hefty tax bill
Investing in student accommodation could leave you with a large tax bill. If you buy a second home or a buy to let, you'll have to pay a 3% additional rate of stamp duty. So if the property costs £300,000, you'll face a £14,000 stamp duty bill.
Recent changes to tax-relief rules for landlords is also making it an increasingly less appealing prospect for many.
You will also need to think about the longer-term implications of owning a buy-to-let property in terms of capital gains tax and inheritance tax.
Do you need to speak to an independent financial advisor? Find out how they can help
4. Have a long-term plan
It's easy to focus on the next three or four years, when your child is planning to live in the property. But owning a buy-to-let is a major financial commitment and one that you will want to sell when the time is right for you, not just because your child has graduated.
So consider all the practicalities about how easy it will be to look after the property once your child has left. For example, how far away is it from your home if you want to check on it? And what will you do if your child drops out of their course early?
It's also worth considering if investing in a buy-to-let now will rule you out of helping them to buy a property when they are older.
5. It can be risky
If you do it right, you should reap the rewards. You could find that letting out a property to your child and several other students means you make a decent profit as well as providing your child with a home. Plus, letting to a number of different people means you are not reliant on just one tenant paying their rent.
But there are downsides when it comes to renting out to students too. You are likely to have an annual turnover, meaning you'll spend a lot of time looking for new tenants.
And if the home is a 'house in multiple occupation' you will need to get a licence. In order to get one, the property will be inspected to ensure the rooms meet a minimum size.
Have you purchased student accommodation for your child? Share your experience below!
Sign up to our

FREE

weekly newsletter

for the latest news, advice and exclusive money saving offers