Getting ready to sell your house in March
Spring is the most popular season to market homes. If you're preparing to sell your home here's what you need to do before the "For Sale" sign goes up.
February 22, 2019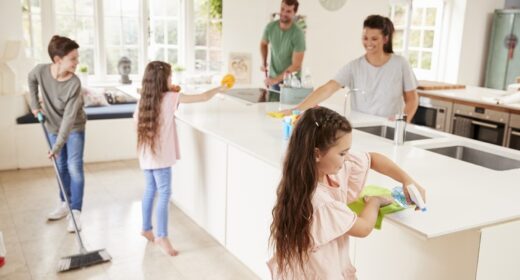 Tidy up
Before you invite any estate agents round to price up your property you want to get it looking it's best so you can market it at the highest possible value.
Make sure your home is clean tidy and free from clutter. Read our post on how to declutter like Marie Kondo to banish your mess so your home looks spacious.
This is the time to get the paint brushes out too if your paintwork is looking tired and scrappy. But, don't embark on any big renovation projects before the valuation. You may find you won't get back what you've spent on that new kitchen.
Don't forget about the outside too. With the worst of the winter behind us it is time to weed, prune and tidy up so buyers can picture the fun times they could have in your garden.
Get a valuation
Once the property is looking it's best it is time to decide what your home is worth. Get on to the property portals and see what similar properties in your local area are selling for. Also, you can use our free instant valuation tool as a helpful starting point.
Then get a number of estate agents to come and value your home. Don't just go with the highest price though. With the research you've done you should have a good idea of which price is realistic and whether an agent has just suggested an inflated price to get you on their books. See What price should I sell my house for?
Choose who will sell your home
These days you have a number of options when it comes to who will market and sell your home. You could do it yourself, use an online estate agent or opt for a traditional high street agent. What you decide will depend on how much work you are prepared to do; how much you want to pay and the reputation of agents in your area. We have a round-up of clever questions to ask your prospective estate agent.
Compare agents based on facts: how quickly they sell properties, how close they come to achieving the asking price and how successful are they. Read our guide on how to find the best estate agent.
Understand your estate agent's contract
Once you've chosen your estate agent it's time to agree what you will pay them and sign their contract. Before you sign anything make sure you read our guide on what to watch out for in estate agent contracts. Otherwise you could face an unexpected VAT bill, a lengthy tie-in period and hidden fees.
Deciding how much to pay your estate agent can be tricky. If your local market is lively it can seem mad to pay them thousands when there are buyers queuing around the block. But many estate agents actually earn their money once the offer is on the table by making sure that offer becomes a sale. Don't be tempted to haggle such a low fee that the estate agent will lose interest in your home. Read how much should I pay my estate agent for more tips and advice.
Hire a solicitor or conveyancer
When your home hits the market you need to be ready to start the sale process. This means choosing a solicitor or conveyancer to handle the legal side for you. The sooner you get this organised the better position you will be in when the offers start to arrive.
You can use our online tool to compare conveyancing quotes from the cheapest, best-rated firms in your local area.
Get your legal representation sorted then you can start filling out all the forms they need so they are primed and ready to go when you accept an offer. The quicker you can move from offer to exchange the less chance there is of your sale falling through so read our post on how to keep your property transaction on track for tips on how to prepare yourself for the sale process.
Sign up to our

FREE

weekly newsletter

for the latest news, advice and exclusive money saving offers