Royal Institute of British Architects Loft Conversion Handbook
This guide to Loft Conversions from the Royal Institute of British Architects explains the whole process of converting a loft space into an additional room. Perfect for keen homeowners doing the work themselves or those of you wanting to be a more informed client.
March 28, 2018
Our partners at RIBA have launched an easy-to-use handbook, providing architects and builders with up-to-date guidance on managing loft conversions and ensuring they achieve compliance with the Building Regulations.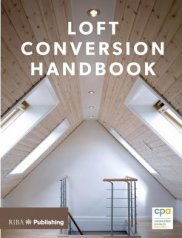 It brings together solutions for complying with Building Regulations requirements (as set out in Approved Documents and third tier guidance, such as industry literature), in one concise and fully illustrated guide. Starting with chapters on the existing structure, the guide is then divided into chapters on the main considerations for a loft conversion, covering topics such as fire safety, windows and doors, and insulation.
This is an essential read for anyone looking for a guide which simplifies the building regulations process and offers solutions, where applicable, to achieve minimum, good practice and advanced construction standards. So if you're thinking of doing a loft conversion yourself, or just want to be an informed client, this is the guide for you.
Sign up to our

FREE

weekly newsletter

for the latest news, advice and exclusive money saving offers
Let us help you…