Prepare your home for winter
These beautiful Autumn days won't last forever. To borrow a phrase from a fairly popular TV show, winter is coming, meaning now is the perfect time to conduct an MOT on your home in preparation for the colder months. We've got the key 7 things to check now.
September 28, 2017
As the old saying goes, the time to fix the roof is when the sun is shining. We may be able to squeeze in a few more sunny days before the cold weather really kicks in but kick in it will so there's no better time to make sure your house is ready for it. Here's our autumn checklist to take your home into harsher seasons.
Check the heating
Chances are you've not had your heating on for a good few months and, even though the temperatures have dropped you're refusing to turn that knob, clinging on to the hope summer will make a reappearance (it's over – let it go). But if you wait until it gets really cold before switching the heating on there's a chance you'll get a nasty surprise when it doesn't work. Turn your heating on now and check all the radiators, bleed them if necessary and then switch them back off safe in the knowledge they're in working order for when you need them.
Read our top tips on how to cut your gas bill >
Clean your gutters
Blocked gutters can cause pipes to overflow leading to damp problems in your house. During the autumn months blocked gutters are a common problem because leaves falling from the trees can clog them up. Make sure you regularly clean them out.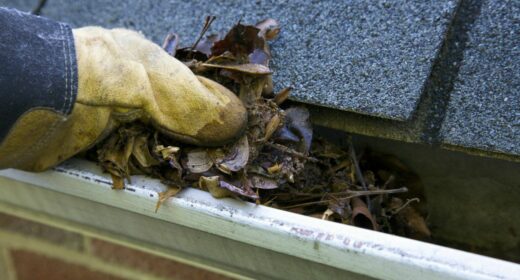 Check your roof
While you're sorting your gutters take the time to check the roof. If you have any loose tiles repair them now before a nasty storm or particularly strong winds make the problem much bigger and much more expensive to remedy. Remember, your insurance policy is unlikely to pay out for storm damage if the roof was not in great shape to begin with.
Service your boiler
If you've not had your boiler serviced in a while, do it now. Find a boiler engineer with our partners Checkatrade 
Insulate
According to energy advice service The Green Age about 25% of the heat in a house escapes through the loft and about 35% through the walls. Proper insulation can significantly reduce this. Cavity wall insulation can help to stop heat escaping the house by filling the gap between the two walls. Newer homes should already have cavity wall insulation but if yours doesn't it's worth getting it fitted.
Get your chimney swept
Curling up in front of a roaring fire is one of the best things about the winter but don't throw any logs on yours until you have had your chimney swept. You can find a fireplace specialist to sweep your chimney through our partners Checkatrade.
Switch it up
In a few weeks time you're likely to be cranking up the heating, turning on the lights a lot earlier and spending more time at home – in short your energy and heating bills are going to soar. So why not take the chance to reduce the cost while you can by switching provider.
Compare energy deals and save hundreds by switching supplier today >
Sign up to our

FREE

weekly newsletter

for the latest news, advice and exclusive money saving offers
Let us help you…