Government Housing White Paper – what it means for you
We take a look at the Government's much-anticipated Housing White Paper, but it is a disappointing read - HomeOwners Alliance looks at what it means for you
February 7, 2017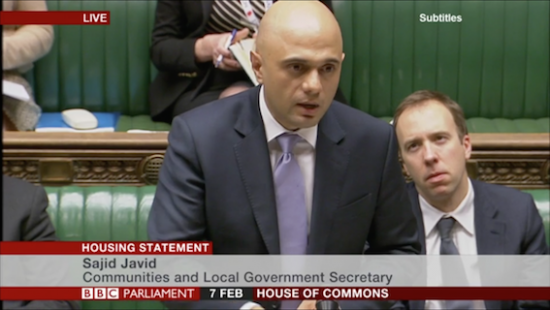 The government has just released its much-anticipated Housing White Paper, but it is a disappointing read for aspiring first-time buyers with no new incentives or extra funding to fix the home ownership crisis.
Communities Secretary Sajid Javid, today delivered the provocatively-titled paper, "Fixing our broken housing market," however, its language is vague, with plenty of talk of improving transparency and speeding up planning, but little in the way of concrete plans.
In the House of Commons today Javid said the paper was a "bold and radical vision" for dealing with systemic problems, but shadow housing minister John Healey said it would "desperately disappoint" millions of people struggling with the cost of housing crisis.
The housing white paper makes a significant change to a key Conservative manifesto pledge to build 200,000 starter homes by 2020. These homes were to be made available to first-time buyers under 40 at a discount of 20 per cent to the market value.
The paper says: "we will change our focus from starter homes to a wider range of affordable housing." Although the government still says that through these measures it expects to help over 200,000 people become home owners by the end of the Parliament.
It says: "Starter homes will be an important part of this offer alongside our action to build other affordable home ownership tenures like shared ownership and to support prospective homeowners through Help to Buy and Right to Buy."
Healey said it was more of a "white flag" than a white paper and that it "confirms that the Tory Party has given up on home ownership. It waters down the promise to help those who need help to get a first foot in the housing market".
A Change in Tone?
At HomeOwners Alliance, we recognise the importance of an affordable rental market and welcome the government taking steps to achieve this, however, we hope that the change in tone does not signal that the government is giving up on the ambition of home ownership for those that want it.
We welcome the government's promise of greater transparency for leaseholders. We hope this translates, as the housing minister has recently promised, to firm plans to stamp out poor practice by housebuilders and others in this space.
We also believe it is vital that, as part of reforms to the housebuilding and planning system, the government drives an improvement in the quality of new homes being delivered so that those buying new-build properties are getting better value for money.
HomeOwners Alliance chief executive Paula Higgins says:
"The government should not give up on homeownership and the security and stability that comes with it. Recent research from the British Social Attitudes Survey found that 86% of people want to own their own home, while our own findings have found that there is a homeownership gap of  five million people."
"Finding a long-term solution to making housing more affordable and getting people firmly on the property ladder so they can have a home of their own is ultimately what is better for society."
A look at the proposals in more detail
Increasing housing supply
Unsurprisingly a huge chunk of the White Paper focuses on how the government will encourage more house building. This includes relaxing planning rules, helping smaller housebuilders to access loan finance and and freeing up public sector land to build on.
Building on brownfield sites will increase, green belt land will remain protected and the government will put a stop to land banking – where a developer buys land but doesn't build on it – by making the process of buying and owning land more transparent – making it possible to see who owns what piece of land.
Higgins says: "Developers have deliberately managed the supply of new homes for too long, enabling them to take advantage of pent up housing demand."
"The government is making small steps towards preventing developers from sitting on valuable land, but we strongly believe more needs to be done. Holding up the development impairs the speed of building housing and we need to deal with the issue of affordability.
"Stats show there is a huge discrepancy between the number of plots and homes approved for development and the number of actual homes being built so this is clearly a huge problem which needs to be tackled head on."
…But quality is also vital
Higgins continues: "In my role, I hear horror stories nearly every day about shoddily constructed homes that turn the dream of home ownership into a living nightmare. If the government wants to help stimulate house building, then it has a responsibility to ensure that new homes are of a high standard and help to solve the housing crisis in the long term.
"This white paper has skirted the issue of quality and I am disappointed that the government has missed the opportunity to re-visit the recommendations made by the All Party Parliamentary Group for Excellence in the Built Environment in full.
"The government is more concerned with numbers than homes for the future and there is a real danger that we are building the wrong sort of home. We need to revisit enforcement of the existing standards system for new build homes.
"The white paper back tracks on space standards and there is a very real danger that poor quality rabbit hutches will be built and presented as the solution to the crisis."
Starter homes
The white paper has reduced the 20% starter homes requirement on large sites to 10%.
"While providing a diverse range of homes on sites is welcome, this reduction makes little sense and the government seems to have backtracked under pressure from developers," says Higgins. "I hope that the homes that are built under this requirement are of a decent standard and are built to last."
Leaseholder protection
While there was nothing in the way of concrete plans for tackling the growing leasehold issue, the government has at least vowed to "consult on a range of measures to tackle all unfair and unreasonable abuses of leasehold." This includes leaseholds being sold on and traded without the homeowners' knowledge.
"The focus on leasehold houses is not before time, but we also need to turn our attention to those who have bought them already," says Higgins.
"Those who were encouraged to purchase through the Help to Buy scheme and the latest wave of new homes, for example, find themselves caught in a leasehold trap – leaving them with the choice of shelling out thousands for their freehold, or living in homes which are unsaleable. The entire system is broken and in desperate need of reform if we are to create a stable housing system that truly works for everyone."
Local authorities to get more power – and more responsibility
The government wants every area of the country to have a plan for what development is needed and particularly ambitious local authorities will be able to access a share of £25m of new funding to plan for new homes. If they fail to make a suitable plan by 2018 the government will step in with a national baseline.
Downsizing incentives
In order to free up family homes and help older homeowners move to more suitable accommodation a consultation will begin with developers, lenders and representative groups to devise "incentives and innovations" to help older homeowners to downsize.
Rumours that Stamp Duty exemptions would be put in place to incentivise older buyers to move home remain weren't confirmed.
Protection for renters
With insecurity often cited as major issue for renters the government will work with the National Housing Federation and the British Property Federation to encourage landlords to offer longer tenancies for renters – helping to give greater stability to tenants.
Banning rogue landlords
Acknowledging that standards in the Private Rented Sector are still not good enough the government will take action to ban the worst landlords and letting agents from the market while councils will be able to fine and prosecute them.
Sign up to our

FREE

weekly newsletter

for the latest news, advice and exclusive money saving offers
Sign up to our

FREE

weekly newsletter

for the latest news, advice and exclusive money saving offers