How to Furnish your Home Creatively on a Budget
Moved home and have no money left? We take a look at some of the ways you can furnish your home on a budget...
September 21, 2016
Unless you're a super saver or have recently happened on a windfall, no-one has any money left for furniture after buying a new home these days. Well, with the costs of moving now at £11,000, it's no wonder.
If that's you, don't despair – this article lists lots of ways you can create a beautiful 'new'ish' interior, without the boredom and nutritional dilemma of having to live on baked beans for the next six months or so…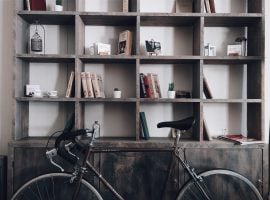 Upcycling
You've probably heard the term banded around from time to time and maybe more so in recent years, because this past-time is becoming increasingly popular.
Those who love the shabby chic décor style have been doing it for years (i.e. getting old pieces of furniture then sandpapering and painting them to look deliberately aged and full of character). You can adopt the shabby chic style if you like, but you can also give second hand furniture a modern twist by, for instance, getting a chair upholstered in a contemporary fabric (get someone to do it for you or take a course at night school).
Other wooden furniture such as tables, bookcases and TV units can also be sandpapered down and repainted/varnished too. Not only will you save a fortune but it can be fun doing a crafting project like this and you'll get huge satisfaction once you've completed it (and kudos after the neighbours admire it!).
Where to find furniture: auction houses, second hand shops/websites, flea markets, charity shops, a reclamation yard, car boot sale, neighbourhood skips or adverts on Facebook / Gumtree
What you'll need: paint stripper, sandpaper, wipe on stains, paint brushes, old sheets etc to paint on
Learning how: buy or download a book on the subject, check out websites or take a course (especially if it's upholstery you're interested in)
DIY
Making your own furniture can be easier than you think – and it'll have that mark of individuality too.
There are lots of DIY sites focused solely on creating your own headboard. Some of the finished articles are pretty spectacular. Take the following 'statement' headboard which involved covering a piece of wood in fabric using glue and stapes then running a sewing machine around the edge of the wood. It doesn't have to be this large, of course, unless you're after a showstopper.
Image via HGTV.com
The following involves some discarded wooden planks cut to size at a local timber yard then painted to match the rest of the bedroom.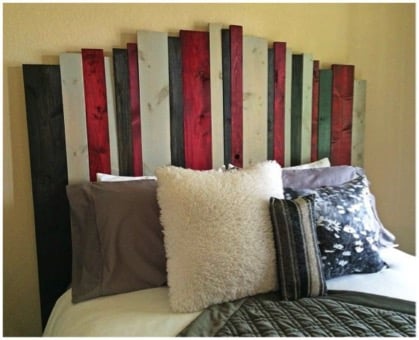 Image via homestyleaustin.wordpress.com
And what's stopping you creating your own unusual shelves? There are some pretty fabulous ideas out there involving step ladders, old rope and even a pair of crutches with some cut down planks of wood.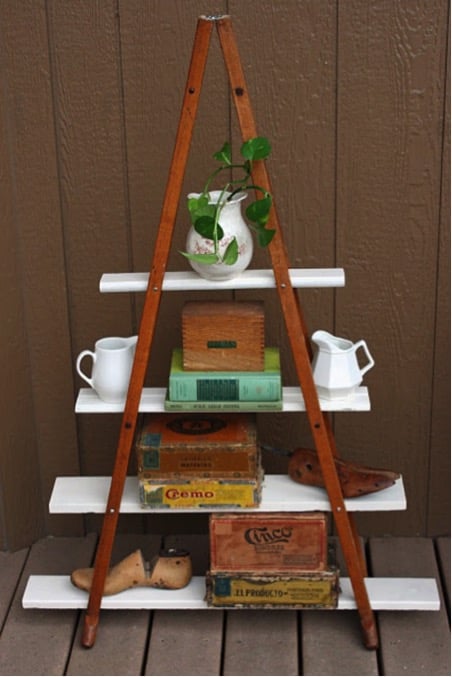 Image via Positivre.fr
Or even blocks of wood glued on top of each other to form corner shelving (great for small bathrooms/bedrooms)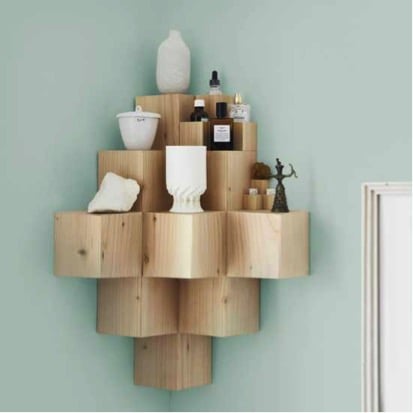 Image via stylizedliving.com
And you might want to think twice about throwing those old crates out…
Additional interior DIY tips
Buy canvas boards and cover in a fantastic fabric or wallpaper sample and hang instead of a picture
Make your own curtains, cushions, table clothes, throws, etc by purchasing fabric and picking up a sewing machine for free or at little cost via some of the following sites below
Finding inexpensive household goods
Check out websites such as Gumtree (house clearance section), eBay local app, Freecycle, Snaffleup, Preloved, town community site, cards selling household items in newsagents windows/ local supermarket board
Combine second hand and new (just as you'd wear a designer jacket with high street jeans)
Buy from factory outlet stores or check out the Homes and Bargains website for discounts on home goods
Use online comparison sites to find the least expensive version of a high street product
Find a local auction site nearby or look for a hotel liquidation sale
Check out exhibitions such as the Good Homes Show and Ideal Home Show where small companies often offer impressive one-off show deals
Not feeling so confident? Find a Tradesman with Checkatrade in a few simple steps!
Sign up to our

FREE

weekly newsletter

for the latest news, advice and exclusive money saving offers
Let us help you…