Commuter towns – the best of both worlds.
Your dream (and affordable!) property may be just a bus ride away... We've asked Sarah Beeny's Tepilo to give us the top commuter hot spots outside London.
July 15, 2015
Why move to a commuter town?
London's label as the cultural and financial hub of the world has put it high in the ranks as a destination for those seeking to advance their careers and broaden their horizons; so much so that its property market now struggles to keep up with the rising demand. House prices increased by 19% in the year to November 2014 according to the Office for National Statistics (ONS), and the average buyer is now paying between £456,323 and £564,658 (Against the national average of £185,700) for the label of a 'Londoner'.
Fortunately, there are more affordable options for those looking to set up a base in the big smoke.  The number of Londoners leaving the city has rocketed to roughly 250,000 a year, and when housing prices drop by on average £1,300 for every extra minute of travel time out of the city, can you blame them?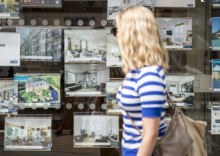 Sure, living in the heart of the city can be great, but moving slightly further outside of London has many benefits aside from affordability. Living just a short train journey from London often allows for the best of both worlds. Being a commuter enables you to spend your day in the buzzing city but return home to cleaner air and greener surroundings. London also has the highest crime rate in the UK, so moving to quieter, more community-centred areas can generate a strong feeling of safety. After all, what greater feeling is there than being able to confidently allow your children to play out in the street whilst also being able to easily take them to all great museums and culture that London has to offer.
Our top 3 commuter hot-spots:
Winchester is just an hours train journey from London with an annual season ticket costing £4,812. This area offers a winning combination of affordability, commutability and lifestyle with the average house costing less than £415,000. It has even been voted as the best place to live in the UK with great housing and top-rated state schooling.
Maidenhead in Berkshire is the quickest in terms of the London commute at just 20 minutes, and also offers an annual season ticket costs £2,908. The average homes on sale are for less than £428,000, and although some may argue that the town centre may not be the most beautiful of places, the surrounding areas (Cookham, Cookham Dean) are home to some fab commuter villages.
Colchester in Essex allows for a 52-minute journey into London with an annual season ticket  costing £4,796. With a buzzing town center and delightful villages, the average property costs under £200,000 and is definitely an area worth considering.
This blog has been provided by Sarah Beeny's Online Estate Agents, Tepilo.
Knowing where to begin when starting your property search can be daunting. Tepilo offers 24/7 support on 01702 870878 and info@tepilo.com and would be happy to talk you through your next steps. You can even claim a free property valuation too!
Sign up to our

FREE

weekly newsletter

for the latest news, advice and exclusive money saving offers
Let us help you…
Sign up to our

FREE

weekly newsletter

for the latest news, advice and exclusive money saving offers