Future Homes: Ikea reveals its vision for the 2025 kitchen
Shelves that double as a fridge and a smart table that cooks your food: Ikea has revealed its vision for the kitchen in 2025. Other concepts include food delivery by drone and recycling waste food whilst extracting usable water.
June 25, 2015
Future Kitchen
Imagine a smart kitchen table that can match the food you place on its surface to recipes suggestions. If you've missed out on ingredients, they can be delivered almost instantly by a drone – so long, weekly shop!
The smart table concept involves a camera and projector above a table working as an interactive control centre. The table can tell you exactly what you should be cooking by sensing the food placed on its surface.
Once you're done cooking, food storage containers take the place of a refrigerator by keeping produce at exactly the right temperature on shelves. You can then stay green by using an in-kitchen composting system that compresses leftover food waste into dry, odourless packages with the extracted water used for indoor plants.
'The exhibition is just one part of an ongoing investigation by Ikea into how people's relationship to food is changing,' Ikea says on its website. 'It serves to tangibly show what we might be doing in 2025: how we'll be growing our food, storing it; how we'll be cooking, eating, living and working in the kitchen.'
Ikea are currently displaying a concept model of its design in Milan.
Watch the video below to see Ikea's concept 'Table for Living':
No more cables
The Swedish furniture giant have also revealed they will launch a range of desks, tables and lamps that can wirelessly charge mobile phones. The Home Spot range of desks, bedside tables and lamps will hit Europe and North America next month – with an international roll-out set to follow.
Jeanette Skjelmose, Ikea's lighting and wireless charging business area manager, said: 'Through research and home visits, we know that people hate cable mess. They worry about not finding the charger and running out of power. Our new innovative solutions, which integrate wireless charging into home furnishings, will make life at home simpler.'
Sounds good to us!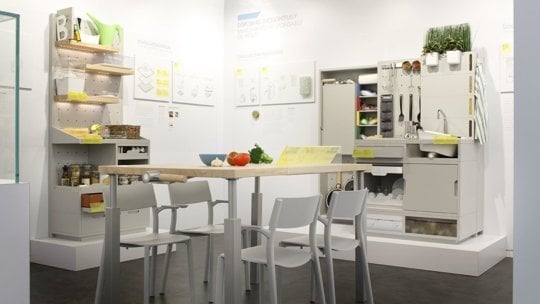 Sign up to our

FREE

weekly newsletter

for the latest news, advice and exclusive money saving offers
Let us help you…