Modest house price growth predicted for 2015
This month's House Price Watch indicates house prices are up on average 0.5% in the past month and up 8.5% in the past year
January 12, 2015

House prices rose sharply in the first half of 2014 with a slowing in the rate of growth since July.
Home sales decreased by 2% in the past month and dipped below 100,000 in November; to their lowest level in a year (Source: HMRC seasonally adjusted figures).
Mortgage approvals are down to their lowest level in 16 months according to Nationwide and 23% below their peak in January 2014 according to Halifax.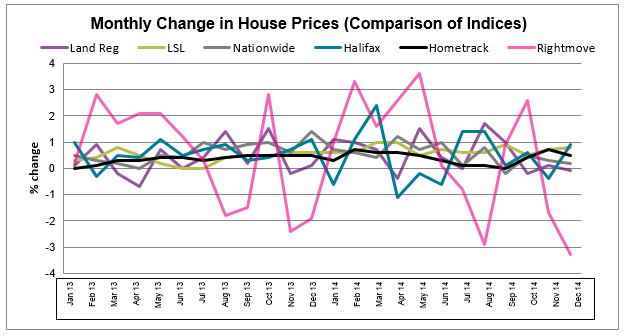 The trend of slowing house price growth is expected to continue into 2015
The slowdown in recent months coincided with the introduction of tougher lending criteria and speculation of an interest rate rise.  There remains some uncertainty as to the longer term impact of the new mortgage lending rules, particularly on second-steppers and in high priced markets like London (much of London's house price boom was ahead of greater mortgage regulation).
 Looking ahead, housing demand is expected to be supported by steady gains in employment and wage growth and continued low mortgage rates. Reports indicate consumer confidence remains optimistic and retail spending in November was its highest in a decade.
Stamp Duty changes are also expected to give a boost to demand in some areas with 98% of buyers likely to pay the same or less after the reforms and those buying just above the £250,000 threshold likely to benefit most from the changes according to a recent analysis conducted by Nationwide.
House prices increased in all regions in 2014 with London leading the pack
London and the South of England experienced higher rates of house price growth than Northern regions and Wales.
Many of the indices are expecting more subdued growth in London in the year ahead.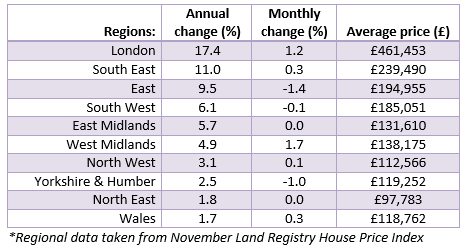 The major indices predict annual house price rises for 2015 in the range of 2% – 5% (compared to 8.5% in 2014).
 Summary outlook from the major indices:
Halifax: "We expect further moderation in house price growth over the coming year with prices nationally predicted to increase 3 to 5% in 2015."
Nationwide: "If the economic backdrop continues to improve as we and most forecasters expect, activity in the housing market is likely to regain momentum in the months ahead."
Rightmove: "The national average price of property coming to market  is forecast to rise by 4%-5%.  London will continue  to re-adjust … there are winners and losers with the Stamp Duty changes. Threat of mansion tax on properties over £2 million remains a deterrent until at least May election."
Hometrack: "We expect the rate of house price growth to slow to 2% by the end of 2015.  London is expected to act as a drag on the headline rate of growth in 2015."
For more detail, see our full House Price Watch Report or  Infographic.  Or find out how we compile these reports
Like this? Sign up to our free newsletter and get the latest House Price Report delivered to your in-box
Sign up to our

FREE

weekly newsletter

for the latest news, advice and exclusive money saving offers
Let us help you…
Sign up to our

FREE

weekly newsletter

for the latest news, advice and exclusive money saving offers