Crime data, security measures and home insurance top tips
Home insurance expert Leigh Jackson shows us how to research crime data for our area and offers tips for managing our insurance premiums
July 15, 2014
Like many aspects of buying and owning a home, choosing the right home insurance can be a daunting and confusing prospect, with many home-owners often unaware of the factors that affect how much they pay. To help demystify the trade and explain what affects insurance premiums we spoke to Leigh Jackson, an insurance analyst at Money Supermarket.
Crime doesn't pay
"There are many elements which contribute to the cost of home and contents cover. When insurers set your premium they will look at a number of factors to help them make their decision." One of the biggest factors that determine how much you will pay is location. This is unfortunately not generally something we're able to change on a whim but we can be aware of issues before we purchase a home. The following infographic was recently produced by The Safe Shop which rates each region by the amount of burglaries which happened there last year.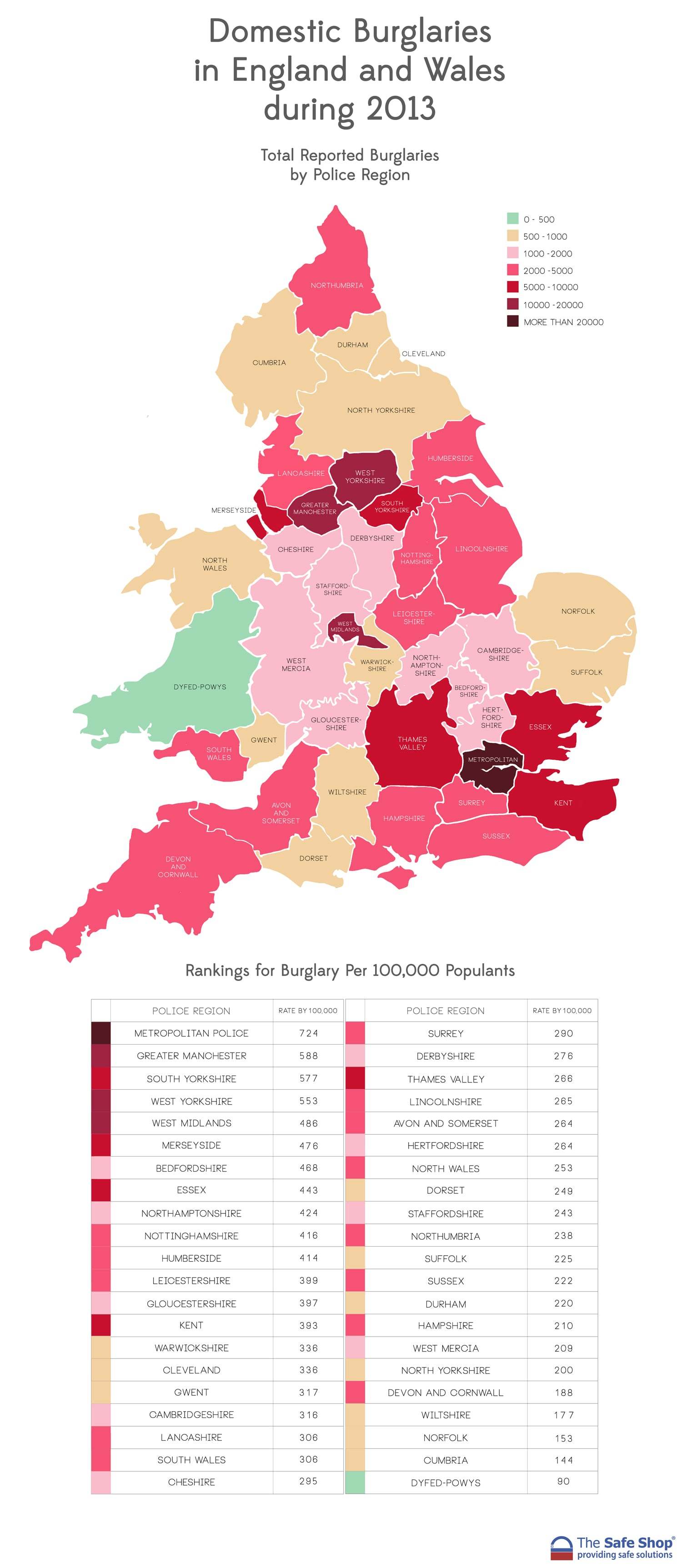 Graphic sourced from www.thesafeshop.co.uk/blog/
For a more detailed report of crimes in your area, the site Local Crime Statistics allows you to do a postcode search. Those looking to buy or living in London can see details of crimes reported in your area month by month, on their nifty Crime Map.
Security measures
According to Leigh, another factor affecting our premiums is how secure your home is. No matter where we live, we have a responsibility to display to insurers that we're doing our best to prevent crime from happening. Part of that comes down to the security measures we take. "Insurers will give better prices for more secure homes so installing a secure lock will pay for itself and lower your costs."
Read the small print
However, it isn't where we live or how well we protect our homes that cause the biggest issues. "Customers should read the terms and conditions of their policies carefully, the main pitfall of home-insurance is that policies are not understood."
Homeowners should be aware that when they buy contents insurance, all of their contents are not automatically covered. "Most standard policies only cover you for limited accidental damage and some providers only cover expensive items, such as laptops and jewellery, if they are specifically listed in your policy."
NEVER auto-renew
Just as it is important do your homework on the area you want to live; it is equally important to research into the policy itself, even when your policy is up for renewal. "Never auto-renew. Insurers offer the best deals to new customers, punishing existing customers with higher rates for failing to challenge them." Using comparison websites to compare and find the best prices means you can find the best deal to challenge your existing policy holder to either match it or you can leave.
Insurance is there to protect us from things we cannot predict, as Leigh puts it, "Of course people would hope that insurance claims never have to be used in the first place" but when they have to be, as homeowners we should make sure we fully understand what we're getting.
Related reads
Sign up to our

FREE

weekly newsletter

for the latest news, advice and exclusive money saving offers
Sign up to our

FREE

weekly newsletter

for the latest news, advice and exclusive money saving offers