House prices up on average 0.7% in the past month and up 5.7% this year
According to January's House Price Watch - we summarise all the house price reports so you don't have to
January 20, 2014
Housing demand continues to climb, while housing supply is at a record low – driving prices up.
Reports indicate property transactions are up significantly this year (up 18% Land Registry), while volume of new listings is down (down -4.9% in December according to Hometrack).
New building is well below the pace required to keep up with the growth in number of households. The Chancellor's Autumn statement announcement to commit a further £1 billion to housing development is key to begin to address the critical shortage in supply.
Hometrack suggests "high transaction costs and households wanting to hold onto attractive mortgage rates secured at the start of the housing downturn" are constraining supply of properties onto the market.
A brighter economic outlook, record low mortgage rates and credit accessibility have boosted housing demand and this trend looks set to continue.  
Buyer numbers are expected to grow in the first quarter of 2014 with continued news of improving market conditions and low mortgage rates.
The Bank of England has now curtailed the use of Funding for Lending support for residential mortgages and refocused it on small businesses. Hometrack indicates "The ending of Funding for Lending for mortgages means a move to 'market' based funding for mortgages.  These remain low by historic standards but are higher than a year ago."
There are mixed views on the actual impact Help to Buy will make on the market.  It is seen to have boosted general optimism but is expected to fall short of expectations due to affordability constraints and the cost of these mortgages.
Affordability may impact housing demand later in 2014 since house price growth has been outstripping average earnings growth since the middle of the year according to Nationwide.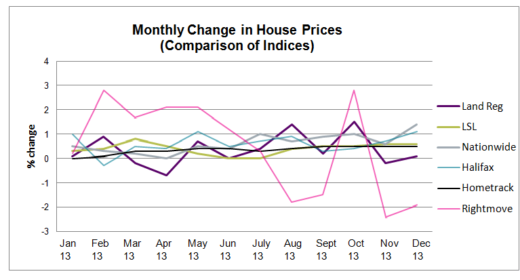 Regional Summary – House prices in London continue to race ahead of the rest of the country
 Most areas register rising house prices over the past month (East Anglia and East Midlands are the exception) but there is uneven growth in property values across the country.
London's average house price exceeds £470,000; up 1.4% on average in the past month and 10.6% this year; reflecting intense demand for properties from both domestic and overseas buyers. It remains to be seen whether the introduction of capital gains for overseas investors will have any impact on demand in London.
Areas outside South/ East have average house price below £200,000; lowest North East (£122,000) "Strongest market conditions and price inflation is set to remain in southern England.  A broader based recovery depends upon growth in the real economy, jobs and household incomes." Hometrack
Find out how we compile these reports
Like this? Sign up to our free newsletter and get the latest House Price Report delivered to your in-box
Sign up to our

FREE

weekly newsletter

for the latest news, advice and exclusive money saving offers
Let us help you…