Expansion inspiration from Shed of the Year 2013
Endless possibilities if thinking about a new garden shed
June 20, 2013
Last month, we reported that some British homeowners were choosing to expand to avoid the extortionate stamp duty involved in moving home.
Now we've found proof (well, kind of) that Brits prefer branching out into the garden. And we thought you might like some inspiration for expansion from Shed of the Year 2013.
We think the organisers may be stretching the definition of "normal" by naming this Best Normal Shed and we'd advise checking whether you need planning permission before building a small ship in your garden. Or better yet, check out our cool virtual house.
That said, under the current holiday on planning permission, owners of detached properties can extend by up to 8 metres (26 feet) and terraced homes can be extended by 6 metres (20 feet). But, as long as they're shorter than 3m, sheds have never needed planning permission, so what are you waiting for?
We're not sure why, but the nautical theme seems to work when it comes to garden sheds. That is a dinghy on the roof isn't it?
Were you wondering if there was going to be a tardis shed? Of course you were. And of course there is. In fact, there are so many that they have their own category. Apparently this is the best.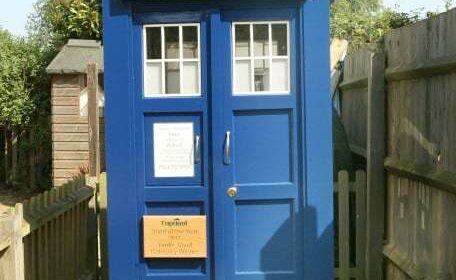 Shed + pub = Pub Shed. Need we say more?
Syd Hollingworth from Malmesbury, Wiltshire was awarded best Workshop/Studio Shed for his "Stencil Shed".
This next one is not a shed… well ok it is but it's not just a shed, it's also an "Eco Bike Høøse".
Apparently this one drew inspiration from a Nissen hut. We have no idea what that means but it does look like a nice shed.
Greenhouse? Shed? No, it's a Nest Design Studio, of course.
Pictures supplied by readersheds.co.uk
Sign up to our

FREE

weekly newsletter

for the latest news, advice and exclusive money saving offers