HOA in the news
A selection of news articles featuring the HomeOwners Alliance
15/11/15 – The Independent – If neighbours go to war then their house prices fall through the floor.
Paula Higgins, chief executive of the HomeOwners Alliance 
says,
"If you end up bringing in the council, you are then legally obliged to declare the issue. We would always advise that should be one of the last resorts – no one wins if you end up in court. Don't be aggressive, firing off a nasty letter and sticking it through the mailbox or going round there when you're angry. If you get their back up, it's very hard to come back from that. Be reasonable and talk to them in person. Do it in a casual way and listen to what they have to say."
05/11/15 – Today's Conveyancer – House prices rising faster than ever after 8 month slowdown (featuring our November 2015 House Price Watch report)
03/11/15 – Property Industry Eye – Online versus the high street (Property Tech Debate 2015 – chaired by Paula Higgins, Chief Executive of HomeOwners Alliance)
29/09/15 – Property Industry Eye – Questions wanted for conference debate.
18/09/15 – Daily Mail – Anger as financial watchdog tells elderly to downsize to tackle housing shortage problem.
Paula Higgins, of pressure group the Homeowners Alliance said 'there isn't anything for them to move into if they sell'. She added: There is a lack of supply and the Government isn't doing much about it. The situation is going to get worse and worse.'
13/09/15 – The Sunday Times – It's a knockout – Rival estate agents are pulling no
punches as they struggle to stay in the
game, and that's good news for sellers. Featuring our guidance on how to choose an estate agent.
09/09/15 – This Is Money – How an online estate agent could save you a small fortune: But would you be a DIY seller to get a cheaper flat-fee? – Featuring our online estate agents comparison table
01/09/15 – Daily Mail – The town where families are having to spend £13,000 just to sell their house, because the 'bargain' dream homes came with a catch.
Paula Higgins, founder of the consumer group HomeOwners Alliance, says: 'The problems that people are facing in Cramlington are terrible. Owners just don't realise the extra costs of buying a leasehold property. It's a really unfair system.'
24/07/15 – Evening Standard – Stamp duty rise hits London home prices with the fastest fall since the crash. Paula Higgins, co-founder of the HomeOwners Alliance, said: "This is a tax on aspiration and on London."
21/07/15 – Daily Mail – One in three to face renting in retirement by 2040: Millions of future pensioners face later years in properties they don't own. Paula Higgins, of the HomeOwner's Alliance, said "Owning your own home gives people security and independence in older age. It is a useful safety net to release money through downsizing or equity release."
18/07/15 – Daily Express – Could your home see it's value collapse due to fracking?
Paula Higgins, of HomeOwners Alliance, said: "Homeowners are being kept in the dark on how fracking will affect them. Some are already bearing the brunt through aborted
sales
."
02/07/15 – Estate Agent Today – Agents charges
18/06/15 – Property Wire – New homes in UK seen as cramped and of poor quality, new research has found.
The survey carried out for the HomeOwners Alliance found that 38% think that a low standard of build quality is the main disadvantage of a new home. A third were put off by the size of rooms and other dislike included the lack of character and smaller gardens.
'We need more new homes, but they have to be homes that people want to live in, not homes that are quick, easy and cheap for house builders to throw up,' said Paula Higgins, of the HomeOwners Alliance.
18/06/15 – Lincolnshire Echo – Big Debate: Would you buy a new build house or are they 'characterless'? Quote from Paula Higgins, CEO.
17/06/15 – City A.M – New build or old house? Just one in five prefer new properties dubbed "rabbit hutches" with "zero charm". With quote from HomeOwners Alliance CEO, Paula Higgins.
17/06/15 – Daily Mail  – Too small, no character and poor quality: Why only a fifth of us would prefer to buy a new build home. Featuring our 2015 Press Notice on New Build homes. Quote from Paula Higgins, CEO:
"Homes shouldn't be built just for a quick profit, but to last for generations to come."
10/06/15 – The Telegraph – Housing market grinds to a halt as sales hit lowest level since 1978. Paula Higgins, HomeOwners Alliance CEO says:
"This makes for a dire situation for first time buyers as they are chasing a smaller pool of properties and are competing with those buying properties as an investment.
We should also take into account lack of suitable properties (e.g. retirement suitable) to move to may stop people from putting their own home onto the market – especially downsizers who are frightened of big moving and stamp duty costs.
It makes financial sense that people hang onto their own properties because of low interest rates – if they need to move they can raise financing from their existing property."
20/05/15 – Daily
Mail – The great divide: Buy a £165k house on the left side of this road and you own it outright. Buy one on the right and you don't. Quote from HomeOwners Alliance CEO: "There is no justification for having new-build houses as leasehold. It is just a way for developers to make money from people who think they own their own home."
08/05/15 – Property Wire – UK estate agents say controversial fracking plans already affecting home sales. Quote from our CEO: "The Government needs to lead an honest and open debate on fracking and its impact on the local community".
07/05/15 – Mail Online – Family homes boom: How detached houses are back in vogue as building hits seven-year high. Quote from HomeOwners Alliance CEO Paula Higgins: "we must not lose sight of the fact that the UK still has a chronic shortage of new homes".
April 2015 – What House? – The hidden cost of buying a home. Featuring Top
 Tips from HomeOwners Alliance.
02/05/15 – Mortgage Finance Gazette – Fracking will hit house values, warn estate agents. Comment from CEO Paula Higgins.
01/05/15 – The Telegraph – Fracking could wipe tens of thousands of pounds off house prices. Quote from our CEO Paula Higgins: "Homeowners are being kept in the dark on how fracking will affect them. Some are already bearing the brunt through aborted sales."
24/04/15 – The Telegraph – General Election 2015: Who will mend Britain's broken housing market? Quotes from  HomeOwners Alliance director Angela Kerr.
19/04/15 – The Sunday Times – HomeOwners Alliance YouGov poll mentioned regarding new council tax band vs mansion tax
17/04/15 – Mail Online – IMF says obsession with home ownership is burdening Britain's economic recovery – HomeOwners Alliance CEO Paula Higgins says "This is more bad news for struggling families."
30/03/15 – Huffington Post – The Hidden Costs of Buying a Home
25/03/2015 The Telegraph Help To Buy ISA, quote from HomeOwners Alliance CEO Paula Higgins
22/03/2015 CEO Paula Higgins says in Sunday Times on Help to Buy ISA "Great news for first time buyers, every little bit helps… but there needs to be houses for people to buy."
20/2/2015 The Economist Brickbats and Mortar Bombs
20/2/2015 Mail Online Families stranded on rip off mortgage rates
2/2/2015 Estate Agent Today said that:
A consumer group is urging vendors to haggle fees with agents using OnTheMarket …. 

The HomeOwners' Alliance….suggests that sellers should "negotiate a reduced percentage fee for the delay in your property appearing on Rightmove or Zoopla."

The campaign appears to have won the endorsement of Home, the property section of the Sunday Times, which yesterday reported that OTM had received "a frosty welcome" in its first week and said trying for a discounted commission by vendors was "worth a shot."
1/2/2015 HomeOwners Alliance research quoted in Sunday Times Home section
28/1/2015 Daily Express quotes HomeOwners Alliance in its examination of property portals
26/1/2015 Mortgage Strategy examines changes to the online property portal world
25/1/2015 The Observer quotes Paula Higgins warning that the new property portal OnTheMarket is a blow to consumers.
18/1/2015 The Telegraph explores how to choose an estate agent
2/1/2015 Telegraph highlights changes to property portal which could spell trouble for homesellers in 2015. HomeOwners Alliance quoted as saying
"Sadly, it is all about protecting estate agents' market share and profits, and nothing about helping homeowners get a better deal."
25/12/2014 The Guardian highlights property portal battle that sees consumers stuck in the middle.
10/12/2014 , Britain's highest property taxes in the world is a tax on the aspirations of hard working families, says Paula Higgins, Daily Mail
5/10/2014 Sunday Times 5 Minute Guide to the Mortgage   Maze
2/10/2014 Telegraph – 5 tax stings you need to know about
1/10/2014 Stamp duty rockets, Daily Mail 
30/9/2014 Telegraph – taxman pockets 35% more in stamp duty
18/9/2014 Evening Standard letter to the Editor about stamp duty
September 2014 Period Homes and Interiors magazine quotes our 2014 HomeOwners Survey
6/09/2014 Daily Mail mentions Paula Higgins speaking about shared ownership.
August 2014 Advice provided in Moneywise magazine on handling noisy neighbours
27/08/2014 Mortgage Strategy asks Paula Higgins her views on extending mortgage terms
11/08/2014 Sunday Times Money Section includes quotes from Paula Higgins advising people on how mortgage brokers can help find a good deal
22/07/2014 Front page of Daily Mail quotes Paula Higgins"The door is closed to a generation. Young people feel so disenchanted that they are living in their childhood bedroom when they are 35."
2/07/2014 Evening Standard quotes Paula Higgins on their front page  "It is a real crisis because people are voting with their feet and moving out of London altogether rather than face years in un-suitable overcrowded conditions when all they want is their own front door."
26/06/2014 Evening Standard quote Paula Higgins "There has been a fundamental, historic shift in attitudes that I don't think the Government is aware of yet. People who own properties may have made money out of them but they now realise their children and grandchildren won't have the same opportunities unless the Government stops this boom and bust property cycle."
20/06/2014 Daily Mail reports that stamp duty takings rise £1billion in a year, quoting HomeOwners Alliance
9/06/2014 – The Times, The Telegraph, Zoopla , Moneywise , Mortgage Introducer, International Business Times, Property Reporter, Yorkshire Post covers latest research and quotes Paula Higgins on how young homebuyers are worried about debt and turn to parents for first step on property ladder
23/05/2014 ITV news quotes Paula Higgins, saying that 'Homeowners are already struggling to make ends meet, and millions could be pushed into real financial hardship with interest rates start to rise
23/05/2014 This is Money reports on HomeOwners Alliance's latest survey findings saying that one in three homeowners fear an interest-rate rise will put them in financial difficulty
18/05/2014 Mail on Sunday quotes HomeOwners Alliance about murky estate agent practice of Sale by Tender
6/05/2014 The HomeOwners Alliance co-sign a letter objecting to Government plans to change trespass laws to allow shale gas companies to drill under homes without the owner's permission featured in The Guardian, Financial Times, Shropshire Star,
3/05/2014 Daily Mail picks up on our campaign reporting that stamp duty burden rises 40% in a year as Treasury takes £27million A DAY from sale of homes

25/04/2014 BBC's  Don't Get Done Get Dom series looks at shared ownership. Catch Paula Higgins answering Dom's questions
8/04/2014 Lucy Tobin at the Evening Standard helps us shine a light on how to get a better deal from your Estate Agents
7/04/2014 Reuters suggests our HomeOwners Survey 2014 results in a slump in FTSE 100 index
7/04/2014 The Times Paula Higgins quoted along with HomeOwners Survey in article "House Price Boom Spreads Across Britain"
7/04/2014 Mortgage Solutions quote Paula Higgins and HomeOwners Survey in article "High Prices Still a Problem for Homeowners"
07/04/2014 This is Money Homeowners no longer so worried about negative equity as soaring house prices become the 'national concern'
25/3/2014 ThisisMoney How to get a better deal from estate agents. Our report and advice on not being ripped off gets picked up by the Daily Mail's This is Money
8/03/2014 "Rip off estate agents making most of the housing boom" Daily Mail reports on HomeOwners Alliance investigation of estate agent fees and contracts Daily Mail
7/03/2014 Moneywise: "Murky" world of estate agents practices revealed. Coverage of HomeOwners Alliance report
7/03/2014 "Rogue agents are back as house prices soar" in the Daily Mail reporting on the HomeOwners Alliance probe into estate agent practices
7/03/2014 Evening Standard reports on sale by tender. Paula Higgins quoted calling the practice "extortion"
7/03/2014 Property Wire report on lack of estate agency fees and transparency
4/03/2014 New partnership to bring fee-free mortgage advice to our visitors announced by Mortgage Solutions
18/12/2013  Our Chief Executive speaks to BBC Radio Essex about how to find a good conveyancer
17/12/2013 Paula Higgins speaks to the London Evening Standard about the rise in property millionaires
09/12/2013 Paula Higgins quoted in London Evening Standard  speaking about research report into house prices
29/10/2013 Paula Higgins appears on Channel 4's Dispatches programme: the property market undercover
10/09/2013 Paula Higgins joins BBC Radio 4's Your & Yours to discuss the housing market in the UK: everything from housing supply to the Bank of Mum and Dad.
06/09/2013 Financial Times looks into the impact of the housing crisis as more grown-up children live at home. Paula Higgins at the HomeOwners Alliance comments.
06/09/2013 Paula Higgins from HomeOwners Alliance speaks about rising London house prices to Voice of Russia UK Radio
28/08/2013 front page of the Evening Standard quotes Paula Higgins highlighting the "huge problem that home  ownership is out of reach of normal people on normal salaries"
23/08/2013 The Daily Mail quotes our report into Stamp Duty
24/07/2013 BBC Radio Humberside interviews Angela Kerr at HOA (listen from 25 minutes in to hear what we say)
24/07/2013 The Sun quote Paula Higgins saying home loan guarantees "could encourage people to take on huge mortgages that could be devastating in the long-run".
23/07/2013 The Guardian article on Part 2 of the Right to Buy scheme quoted Paula Higgins warning that if the scheme is allowed to drive up house prices it could "cause a bubble and encourage people to take on huge mortgages." 

15/07/2013 Mortgage Solutions reports on our YouGov Survey into Homeowner and First Time Buyer Stresses. See our infographic and report for more info
19/06/2013 Mortgage Solutions Looks at the Help to Buy questions that still need answering. Angela Kerr calls on mortgage advisers to communicate the risks of negative equity associated with new build homes
Our report Stamping on Aspiration exposes the unfair and rising burden of Britain's bloated property tax and is featured in many national papers as well as on Radio and TV
28/05/2013 LBC radio – Paula Higgins discusses the shocking news that average stamp duty payments are up 18% in the last year
28/05/2013 5Live – HOA Chief Executive, Paula Higgins explains why the stamp duty system is in urgent need of reform. Click to 2:37:00 for the interview
28/05/2013 BBC Wales, Paula Higgins on the impact of stamp duty in Wales. Click to 0:42:30 for interview
28/05/2013 ITV Daybreak, Paula Higgins, argues for stamp duty reform of the stamp duty system
28/05/2013 Sky News – HOA Chief Executive, Paula Higgins is interviewed about the ever rising burden of stamp duty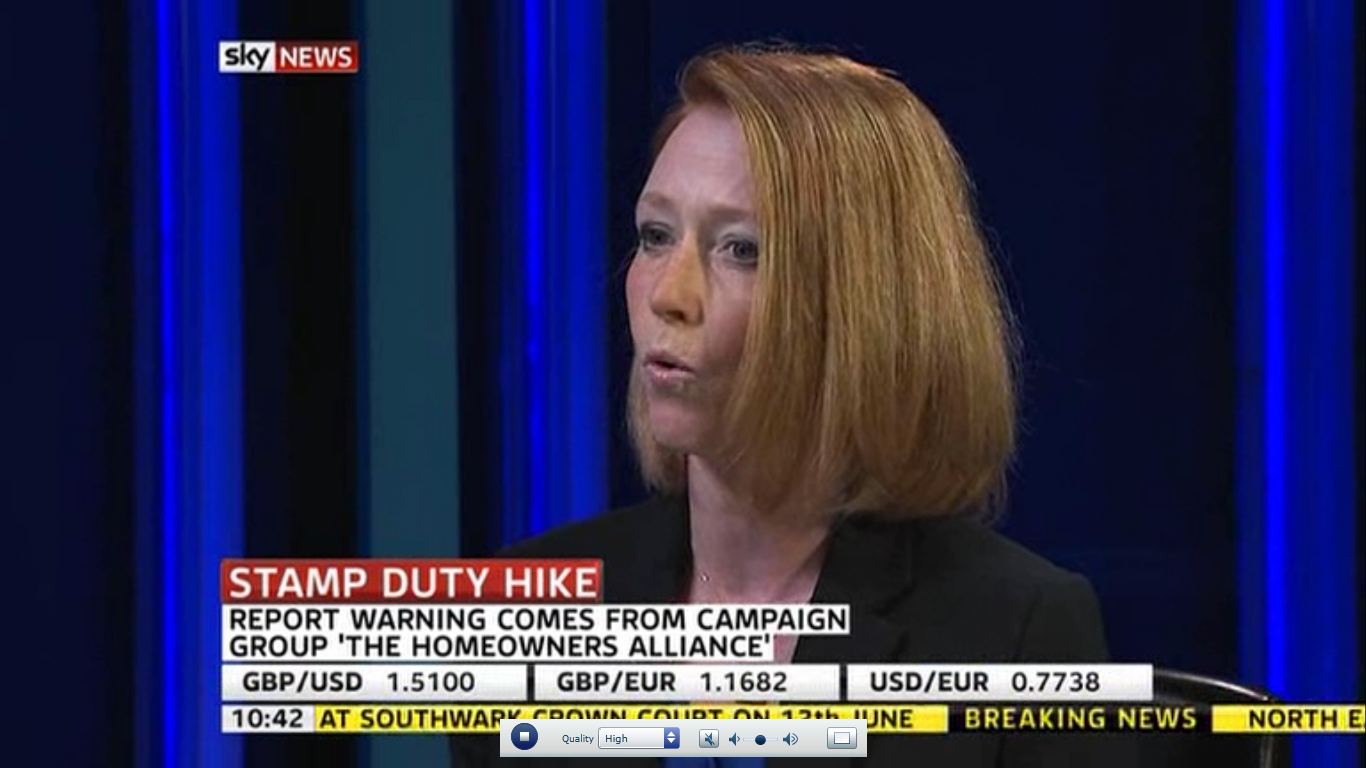 28/05/2013 The Scotsman – Stamp duty rises 'choking' housing market recovery
28/05/2013 The Daily Mail – Stamp duty is 'choking' housing market as it rises seven times faster than inflation over last 15 years
28/05/2013 The Daily Express – Stamp duty 'kills dream of buying your own home'
28/05/2013 The Guardian – Stamp duty choking housing market, say campaigners
28/05/2013 The Daily Telegraph – Rising stamp duty "stops families from moving house"
28/05/2013 The Metro – Housing market is being "stamped on"
27/03/2013 The Daily Mail – Have an interest-only mortgage deal? Expect a hike in repayment costs as more banks decide to axe low-cost plan – Paula Higgins calls on mortgage companies not to "shirk their responsibilities" to their customers. This is especially important in the wake of our report On the Edge which found hundreds of thousands may be forced to sell their home when their mortgage expires
23/03/2013 The Times – Will Help to Buy work?
Paula Higgins says: "Help to Buy could spell disaster. If prices fall, buyers will be on the brink of negative equity."
21/03/2013 The Evening Standard Housing crisis means half of London's 'generation rent' have given up all hope of buying property. Paula Higgins is featured lamenting that "Most people realise they must save hard for the chance to own a home. But even those who make sacrifices are now excluded from entering the London market and creating a stable environment for themselves and their families."
26/02/2013 The Evening Standard Average cost of deposit for first-time buyers in London? A record £60,000. Featured on page 2 we condemn London's spiraling house price bubble: "This is robbing a generation of any prospect of getting onto the housing ladder and it's incredibly unfair. First-time buyers should be providing the life blood of London's housing, and need more support than ever."
17/02/2013 The Independent on Sunday The interest-only mortgage time bomb that must be defused: The YouGov poll on interest-only mortgages we commissioned, reveals some shocking figures as well as personal tragedies  with nearly 300,000 people fearing they will lose their home. Click here for the full report
13/02/2013 The Guardian 1.1m interest-only mortgages are 'ticking time bombs: The YouGov poll on interest-only mortgages we commissioned, reveals some shocking figures as well as personal tragedies, with nearly 300,000 people fearing they will lose their home. Click here for the full report
03/02/2013 Sunday Times Homeowners have a new champion – the HomeOwners Alliance:
"Home-ownership groups are common in Europe, ensuring individuals get a fair deal from government and industry. With the launch of the HomeOwners Alliance, British property owners  finally have an ally."
25/01/2013 LBC interview with Martin Shankleman over deposits for first-time buyers hitting £100,000 by 2020 – "The only people who can afford to buy are those with wealthy relatives and people who win the lottery. The dream of home owning is dying in Britain because the housing market is so dysfunctional.  And homeowners are actually now in the minority in the capital. Builders now build homes for investors."
24/01/2013 Evening Standard Deposits for first-time-buyers will hit £100,000 by 2020 – Paula Higgins condemns the capital's spiraling prices in this front page piece
10/01/2013 ITV1 Tonight: Generation Rent – The HOA's Martin Shankleman: "There's been a profound change in the housing market which has robbed a generation of people of the realistic prospect of getting onto the housing ladder and it's incredibly unfair. Homeowners are much happier about their quality of life that those who live in the rented sector. They are more secure, homeowners have put roots down, which makes for a better standard of living". Skip to 5:20 to see the interview
14/12/2012 The Guardian  London houses face highest eviction rate –  Paula Higgins says downward trend in the number of repossessions unlikely to last
11/12/2012 Evening Standard Owner occupation in freefall as young people struggle to buy homes – Paula Higgins comments on the latest Census figures – "London is now a city of renters"
23/11/2012 Most families in London now rent rather than own homes – Front page of the Evening Standard reports on the decline of homeownership, as publicised by our report "The Death of a Dream"
19/11/2012 Drop in home ownership "must be priority" – Trade magazine Inside Housing features our report "The Death of a Dream"
16/11/2012 BBC Radio 4 You and Yours – The HOA's Martin Shankleman debates the findings of our report. Skip to 15:40 for the discussion of home ownership
16/11/2012 British dream of owning your own home is dying, say experts – The Metro features our first report "The Death of a Dream"
16/11/2012 UK homeownership falls to lowest level since 1988 – The Guardian features our first report "The Death of a Dream"
16/11/2012 Home ownership hits lowest level in 24 years – The Telegraph features our first report "The Death of a Dream"
16/11/2012 Housing: are you ready for the new normal? – "The Death of a Dream" is discussed in The Times
16/11/2012 Share drop in Northern Ireland home ownership – "The Death of a Dream" is discussed by the BBC
09/11/2012 Declining home ownership is a national crisis – Chief Executive Paula Higgins, highlights the slump in homeownership in the Daily Telegraph
Sign up to our FREE newsletter

Keep up to date with all our latest advice and services

Sign up! >